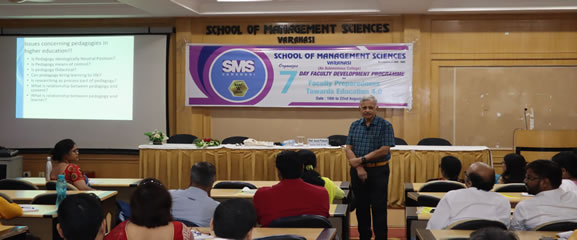 FACULTY DEVELOPMENT PROGRAMME DAY 4
Under the new education system, now the students will have to be prepared for employment at the graduation level itself. Cognitive skills, self-development skills, interpersonal skills and digital skills are central to the latest version 4.0 of Education. By adopting all these skills, students can become employable and ready for the challenges of the future. The above views were expressed by Anand Prakash, Professor of Psychology from Delhi University on the fourth day of the seven-day F.D.P organized by the School of Management Sciences, Varanasi. He addressed the special technical session Advance Pedagogical Techniques on the fourth day. Emphasizing on adopting new teaching method by teachers, Prof. Anand Prakash said that three H head, heart and hand are very important in education, which was also advocated by Mahatma Gandhi. Today, it is the responsibility of teachers in the changing educational environment to communicate with the students and review the challenges faced by them. Rejecting the didactic teaching method, Prof. Prakash said that multi-dimensional, two-way teaching is the need of the hour in the new education system. The new education system has democratized education and knowledge.

The fourth and fifth Technical sessions of FDP were conducted by Dr. Mahendra Kumar Sharma and Dr. Sophia Khan respectively. The vote of thanks was proposed by Prof. Sanjay Saxena. Dr. M.P. Singh, Executive Secretary of SMS, Director Prof. P.N. Jha, Registrar Mr. Sanjay Gupta, Dr. Amitabh Pandey, Dr. Pallavi Pathak and all the teachers and staff were present.
---