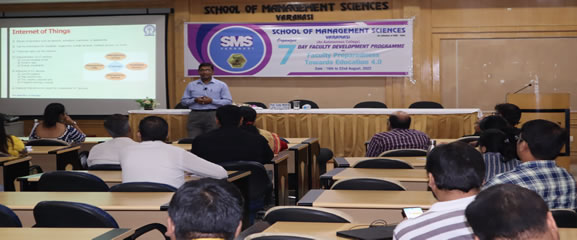 FACULTY DEVELOPMENT PROGRAMME DAY 5 @SMS VARANASI
Every sector is growing smartly with the use of innovative technology. There is also improvement in the field of education. The education sector also started realizing the need for technology and its importance in the EdTech sector. The field of education is changing rapidly with the Internet of Things digital tools. At the same time, it is promoting the traditional education system more efficiently. The above views were expressed by Professor Sudip Mishr of IIT, Kharagpur on the fifth day of the seven-day FDP. Highlighting the usefulness of Machine Learning and Internet of Things, Prof. Mishr said that today, learning platforms have changed the landscape from offline classrooms to online classes. In this, live classes, pre-recorded lectures, online problem solving etc. are connected to a central server and specialized personal software. This leads the world of education to change dynamically. He said that the education sector is adopting IoT devices and their services to make the best use of technology. This system helps to make education more interactive, collective and easily accessible to all. In addition, it enables automatic attendance, interactive learning, security of education premises, enhances productivity, real-time learning experience, close monitoring, etc.

The sixth and seventh sessions of FDP were conducted by Dr. Anju Singh and Dr. Amit Kumar Bhanja respectively. The vote of thanks was given by Prof. Avinash Chandra Supkar.

---