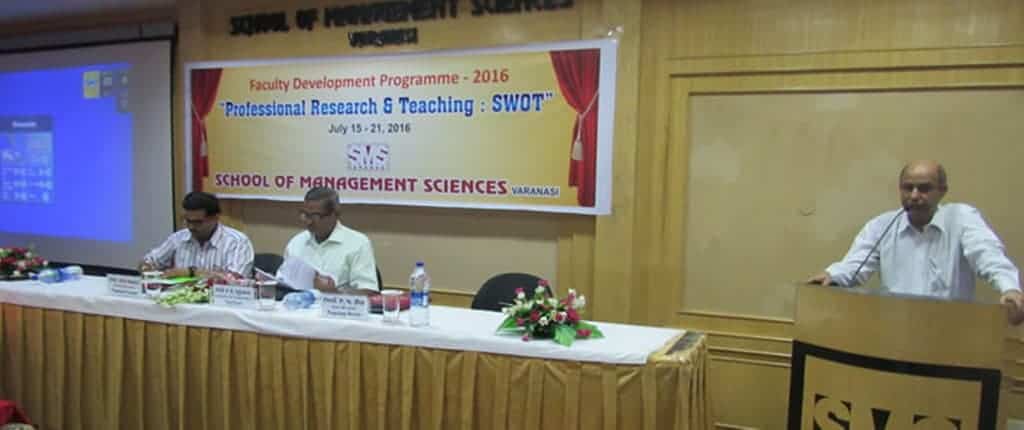 Faculty Development Program held at SMS Varanasi (July 15 to 21, 2016)
A Week Long Faculty Development Programme started on 15th July, 2016 at Khushipur Campus of SMS, Varanasi. The theme of the Programme is Professional Research & Teaching: SWOT. About 50 participants from various institutions participated in the programme. Dignitaries present on the inaugural session were Prof. P.R. Agrawal (Vice Chancellor, Purvanchal University, Jaunpur), Dr.M.P. Singh (Executive Secretary, SMS-Varanasi), Prof P.N. Jha (Director, SMS-Varanasi), Shri Sanjay Gupta (Registrar SMS, Varanasi) and Dr. Alok Kumar (Convener, FDP).
During his welcome address, Prof P.N. Jha (Director SMS-Varanasi) extended a very warm welcome to the dignitaries and enlightened the forum with importance of Faculty Development Programme. He said that teaching is a noble professions and must be nurtured with cognitive learning process in order to enhance the effectiveness in todays era of Globalization. He also focused on the importance of dyadic relationship between the faculty and student. He considered communication as an adhesive which acts as a link between the student and teacher. He further added that faculty must identify the portable territory of the students and must invade the same as per their level of knowledge.
In one of the sessions, Prof. Dhananjay Pandey (School of Materials Science & Technology, IIT-BHU, Varanasi) started his deliberation by linking the research with professional teaching. He considered research as science of knowledge creation while teaching as an art of dissemination of knowledge. He further added that Research is becoming a core activity in universities, and individual academic performance. In the contemporary context it is the key to a number of things, including career progression.
In next deliberations, during the two days interactions, Prof. N. K. Sharma (Sr. Advisor and Consultant, BAC, Kanpur) discussed the various attributes of Qualitative and Quantitative Research. Focusing on the importance of Data, he said that it is the data which decides the quality of the research. He also discussed the use of IT and software in professional research. Prof. Sharma while answering one of the questions discussed about functioning of Structured Equation Modelling and differentiated the same with regression analysis. He opined that causal relationship cant be established merely through such quantitative instruments. For such relationship study even more controlled experiments are
Furqan Qamar, Secretary General, AIU, presented his research done on B-Schools students. He highlighted the expectation of the students from the B-Schools along with the factors of satisfaction. Thorough various examples he discussed the measures to improve the teaching in higher education. He further said that research and teaching are not different entities. The blend of both is required to increase the value addition in the students and cope up with contemporary dynamic environment.
Next session started with the deliberation of Prof. A. K. Tripathi, Deptt. of Computer Science and Engineering, IIT-BHU. He initiated his talk by clarifying three basic terms i.e. research, discovery and invention. He said that nobody can make other person knowledgeable but can facilitate that other person to explore and acquire knowledge. He quoted a publication Journal of Negative Research to be referred by scholars of different streams. He commented upon the fundamental nature of physics, chemistry and biochemistry also. He suggested combining performance and reliability to form the concept of performability.
In another session, Prof. M. S. Pandey, English Deptt., BHU, discussed various dimensions of oral communication. Besides variety of punctuation and ascent related issues, he discussed about the four fundamental maxims of good communication. They are quality of content (must be correct), quantity of content (balanced), relevance of content (useful for audience) and manner (style) in which it should be delivered. He further clarified that English is a stress time language, unlike Hindi.
On last day of FDP, Prof. Azhar Kazmi, King Fahd University of Petroleum and Minerals-Dhahran, Saudi Arabia interacted with participants. He discussed about various dimensions including Academic Integrity in Indian and Global research environment. He further differentiated between rigour and relevance in research and need of higher degree of relevance in future research. He opined that case study writing and discussion is a good method of teaching and research.
Valedictory session of the program took place in presence of Prof. Azhar Kazmi and Prof. P.N.Jha. In this session Prof. Kazmi suggested the faculty members to complement their teaching with research and vice versa. Prof. Jha congratulated the organizing committee on successful completion of the Faculty Development Program. Prof. Alok Kumar gave vote of thanks in valedictory session and expressed his thankfulness towards all the stakeholders of FDP including speakers and participants. SMS Newsletter was also released by guests with Chief Editor of SMS Newsletter Dr. Abhishek Srivastava. In various sessions coordination was done by Dr. Pallavi Pathak, Dr. Anchal Pathak and Dr. Medha Srivastava.
---