Green Initiative
---
RAIN WATER HARVESTING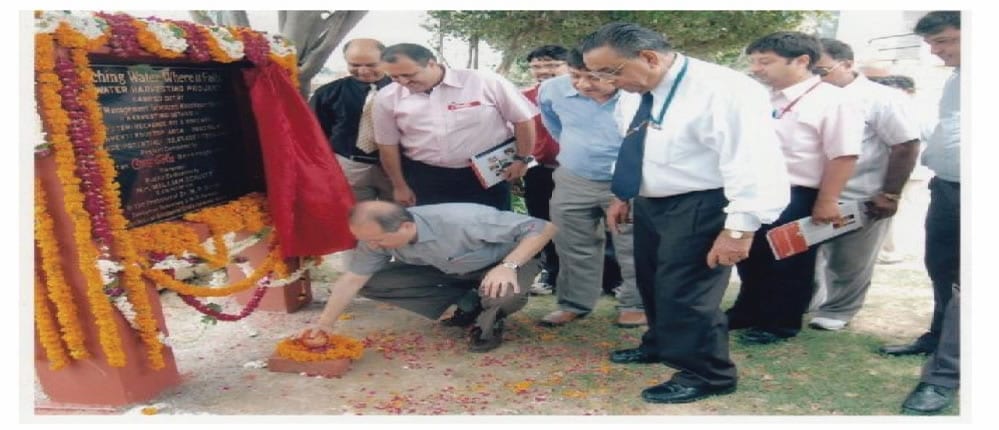 The underground water table is decreasing day by day & minute by minute. The reason is that no sincere attempt is made to replenish the ground water table with rainwater during the monsoon & other rainy days.
The Rainwater harvesting is the simple collection or storing of water through scientific techniques from the areas where the rain falls. It involves utilization of rain water for the domestic or the agricultural purpose. The method of rain water harvesting has been into practice since ancient times. It is as far the best possible way to conserve water and awaken the society towards the importance of water. The method is simple and cost effective too. It is especially beneficial in the areas, which faces the scarcity of water. We can see that the People usually make complaints about the lack of water. During the monsoons lots of water goes waste into the gutters. And this is when Rain water Harvesting proves to be the most effective way to conserve water. We can collect the rain water into the tanks and prevent it from flowing into drains and being wasted. It is practiced on the large scale in the metropolitan cities. Rain water harvesting comprises of storage of water and water recharging through the technical process
School of Management Sciences, Varanasi is practicing the Rain water harvesting in the campus, . All buildings are covered by Rain Water Harvesting System. The area of building roof is 2600 sq.mt. by which recharge potential of rain water harvesting system is 2175 cu.mtr. with 3 Rain Water Harvesting Pit/Bore well connected by Rain Water Harvesting Pipeline. The said system is operational since last 2008 and being maintained properly on annual basis by professionals.
SOLAR POWER SYSTEM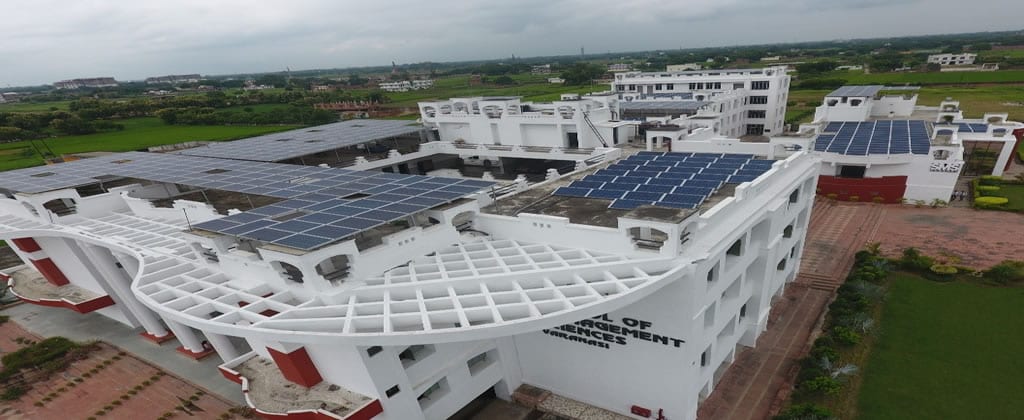 Solar energy is radiant light and heat from the Sun that is harnessed using a range of ever-evolving technologies such as solar heating, photovoltaic, solar thermal energy, solar architecture, molten salt power plants and artificial photosynthesis. The large magnitude of solar energy available makes it a highly appealing source of electricity.
Roof Top Solar Power Plant of 200 KW capacity was commissioned at the campus in February 2017 by 'TATA Power Solar System Ltd.' which has made School of Management Sciences, Varanasi as the "Eco-Friendly Green Campus". The campus has a total of 786 Solar Photo Voltaic Solar panels installed on the Roof Top of the buildings with 6 Inverters. The Total load of the electricity at SMS, Varanasi Campus is 200 KW through Purvanchal Vidyut Vitran Nigam Ltd. (PuVVNL), thus the Institute has achieved 100 % Electrical Power Backup Solar Energy. Moreover SMS Varanasi is also contributing surplus Electricity Units of the Roof Top Solar Plant to the PuVVNL Power Grid. Given below the details of Solar Power production and contribution of surplus Units to PuVVNL grid by the Institute:-
| | | | |
| --- | --- | --- | --- |
| Sr. No. | Year | Solar Power Production (In Elec.Unit) | Contribution to PuVVNL Grid (In Elec. Unit) |
| 1 | 2017 | 2,17,625 | 22,684 |
| 2 | 2018 | 2,24,386 | 38,280 |
| 3 | 2019 | 2,20982 | 45,004 |
| 4 | 2020 | 2,22915 | 60,312 |
FOOD SAFETY AND STANDARDS AUTHORITY OF INDIA (FSSAI)
FSSAI stands for Food Safety and Standards Authority of India which is an organization that monitors and governs the food business in India. It is an autonomous body that is established under the Ministry of Health & Family Welfare, Government of India.
The FSSAI has been established under the Food Safety and Standards Act, 2006 (FSS Act) which is a consolidating statute related to food safety and regulation in India. It ensures the food products undergo quality checks thereby curtailing the food adulteration and sale of sub-standard products. It is responsible for the registering and licensing of the Food Business Operators (FBO) in India and it lays down the rules and regulation for running the food business in India.
Every food business operator involved in the manufacturing, processing, storage distribution and sale of food products must compulsorily obtain FSSAI Registration or License. At School of Management Sciences, Varanasi we take our responsibility seriously and vendor operating SMS canteen holds valid FSSAI registration.
GREEN AUDIT
Environmental audit is a general term that can reflect various types of evaluations intended to identify environmental compliance and management system implementation gaps, along with related corrective actions. In this way they perform an analogous (similar) function to financial audits.
Environmental auditing is essentially an environmental management tool for measuring the effects of certain activities on the environment against set criteria or standards. Depending on the types of standards and the focus of the audit, there are different types of environmental audits. Organizations of all kinds now recognize the importance of environmental matters and accept that their environmental performance will be scrutinized by a wide range of interested parties.
Environmental auditing is used to.
Investigate

Understand

Identify
These are used to help improve existing human activities, with the aim of reducing the adverse effects of these activities on the environment. An environmental auditor will study an organization's environmental effects in a systematic and documented manner and will produce an environmental audit report. There are many reasons for undertaking an environmental audit, which include issues such as environmental legislation and pressure from customers.
The broad objectives of the Environmental auditing scheme are:–
Diagnosing the environmental problems to eliminate them.

Environmental education through a systematic environmental management approach.

Improving environmental standards.

Benchmarking for environmental protection initiatives.

Efficient utilization of resources.

Financial savings through a reduction in resource use.

Curriculum enrichment through practical experience.

Development of ownership, personal and social responsibility for the college and its environment.

Enhancement of college profile.

Developing an environmental ethic and value systems in young people.

Providing certain recommendations based on environmental audit report for institution's upliftment and channeled functioning."

Ensuring compliance, not only with laws, regulations and standards but also with
company policies and the requirements of an Environmental Management System (EMS) standard.
Enabling environmental problems and risks to be anticipated and responses planned.

To demonstrate that an organization is aware of its impact upon the environment through providing feedback.
ENERGY AUDIT
With the advent of energy crisis and exponential hikes in the costs of different forms of energy, The Walk Thru Energy Audit is manifesting its due importance in buildings. Walk Thru Energy Audit helps to understand more about the ways energy and fuels are used in any establishment and help to identify areas where waste energy may occur and scope for improvement exists.
The Walk Thru Energy Audit is the preliminary systematic approach for decision making. In the area of energy management as it attempts to balance the total energy inputs with its use and serves to identify all the energy streams in a facility/establishment.
With this objective, M/s Ganges Consultancy Kanpur was entrusted with the job of conducting a Walk Thru Energy Audit involving the analysis of electrical consumption in last one year, Lighting System, ACs etc. at School of Management Science, Varanasi- U.P.
M/s Ganges Consultancy Kanpur is a registered organization under Partnership act 1932. M/s Ganges Consultancy Kanpur is a BEE empanelled organization for PAT M & V (placed at 46th position) & BEE ESCO Grading.
M/s Ganges Consultancy Kanpur is a team of experienced BEE (Bureau of energy efficiency) Accredited Energy Auditor, Certified Energy Auditor and young, experienced, and futuristic sector experts with an extensive technocrat professional background. It provides consultancy for technical services in the areas of energy, environment study, renewable energy and utility & process designing system, waste energy management, energy conservation, and provides appropriate training modules for improving awareness in the society about energy efficiency.

Scope of Work
Walk Thru energy audit of School of Management Sciences, Varanasi, Uttar Pradesh.
Purchased Power Analysis
Purchased power bill analysis for last one year with pf, kWh, kVAh, and overall power cost to college. Study of Contract demand and for this, college has to provide monthly electricity bills copy.
Capacitor Bank
Measure performance of each capacitor bank, Identify the default capacitor bank, study their location and suggest further improvement if feasible.
Study the location of capacitor banks.
DG Set
Study of the Power Generated vis-à-vis fuel consumption; evaluate the specific Fuel consumption kW/ litter and suggest measures for improvements, if any
Air Conditioning System
Study of the present package AC system and possibility to installation of new energy efficient ACs.
Study of Pump Performance
Study of operation of different pumps installed in campus and suggests if any energy conservation measures possible.
Lighting & Fans System
Study of the Lighting systems in respect installation of type of fixtures and their control system.
Further use of Renewable Energy,
Possibility has to be checked for further installation of renewable energy system beside 200 kW SPV system.
INTERNATIONAL ORGANIZATION FOR STANDARDIZATION(ISO)
ISO certification is a seal of approval from a third party body that a company runs to one of the international standards developed and published by the International Organization for Standardization (ISO).
The ISO are an independent, non-governmental international organization who brings together experts to share knowledge and develop international standards that support innovation and provide solutions to global challenges.
ISO 9001
ISO 9001 sets out the criteria for a quality management system and is the only standard in the family that can be certified to (although this is not a requirement). It can be used by any organization, large or small, regardless of its field of activity. In fact, there are over one million companies and organizations in over 170 countries certified to ISO 9001.
This standard is based on a number of quality management principles including a strong customer focus, the motivation and implication of top management, the process approach and continual improvement. These principles are explained in more detail in ISO's quality management principles. Using ISO 9001 helps ensure that customers get consistent, good-quality products and services, which in turn brings many business benefits.
ISO 14001
ISO 14001 sets out the criteria for an environmental management system and can be certified to. It maps out a framework that a company or organization can follow to set up an effective environmental management system.
Designed for any type of organization, regardless of its activity or sector, it can provide assurance to company management and employees as well as external stakeholders that environmental impact is being measured and improved.