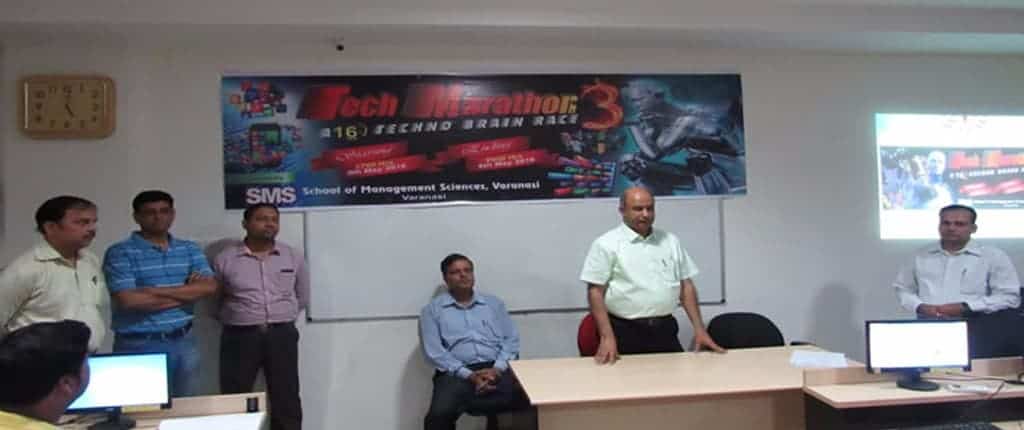 TECH MARATHON-2016
An integral part of professional education, a simulation based competition Tech Marathon, organized for MCA students ended after continuous 16-hour run at the Khushipur campus of School of Management Sciences (SMS) Varanasi. 16 hours Techno Brain Race started with the blessings of Director Prof. P. N. Jha and Registrar Mr. Sanjay Gupta at 17:00 Hrs on 05th May 2016. Topic of this 16 Hrs race was announced by the Director as ICON APPS.
Features of these apps were explained by Mr. Ram Gopal Gupta. Inauguration of the event was coordinated by Mr. K.S. Mishra and Mr. S.S. Srivastava and Mr. Ram Gopal Gupta
Mr. Pradeep Kumar, Mr. Debprio Banerjee, Mr. Sushil Singh, Mr. K.N. Chaubey and all the faculty ensured the smooth conduction of competition and encouraged the participants.
The key features of this event were:
Event Objective: Event will make the participants to work in team, and deliver the result in time bound conditions and cop-up with the stressful environment
The development of the APP was done in 3 Levels:-
Level-1
This App will have these tabs:
a. About Conference
b. Organizers
c. Sub Themes
d. Important Dates
e. Guidelines for papers
f. Online Participation Form which will have the following information:
i. Participant Name
ii. Designation
iii. Organization
iv. Email
v. Mobile
vi. Category
vii. Fee
Level- 2
Online Participation Form constraints:
a. All Fields in the form are mandatory
b. Email and mobile number validation for valid format should be checked
c. Filled up data should be stored Local DB then go to level -3.
Level -3
Sync participant local database with google/ dropbox/ skydrive and the facility to the admin to view the registered participants.
Duration: Event started at 17.00 Hrs on 05th May, 2016 and was operational till 09.00 Hrs, 06th May, 2016.
Product Development: Android Apps were developed during the event. Evaluation was done at 09.30 AM on 6th May.
Topic:Topic was ICON APP, which was same for each team
Restrictions: No restrictions, full freedom
Results:
First Prize
ARPITA TIWARI MCAL/03/04
ANKIT SRIVASTAVA MCAL/03/03
DEEPALI GUPTA MCAL/03/06
Second Prize
ISHWAR CHANDRA TIWARI MCAL/03/07
LAVANYA SHRESTHA MCAL/03/09
MANISH KUMAR LAKRA MCAL/03/10
Third Prize
SUDHA SRIVASTAVA MCA/17/06
PRAKRITI MCA/17/02
ARCHANA PATHAK MCA/17/08
---