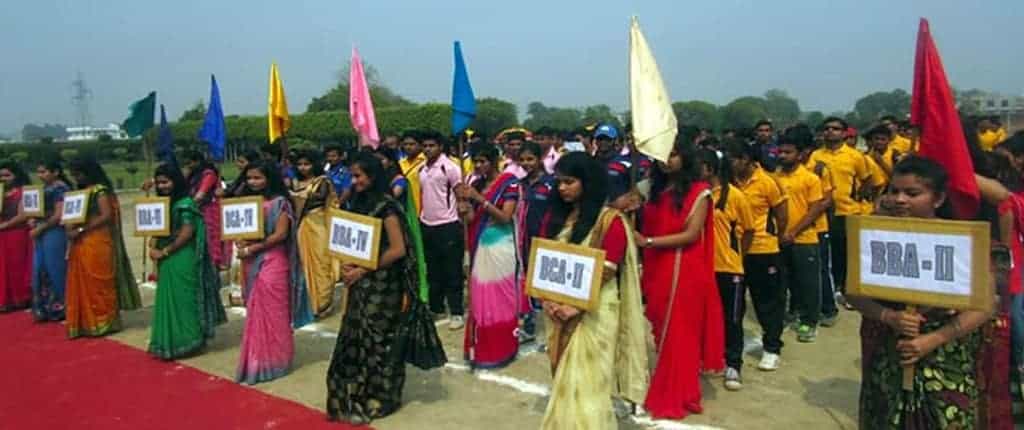 Sports Fest 2016 @SMS Varanasi
School of Management Sciences, Varanasi held an impressive function to celebrate its Annual Sports Day, SPORT FEST-2016 under the banner of Crest Sports Club. SMS students have been fortunate to have auspicious presence and blessings of former Olympian and legendary Hockey player Shri. Narsingh Paratap Singh (Former Deputy Director-Sports Department). He has been motivator and main trainer to many Indian National level Hockey players including Dhanraj Pillay, Mohd. Shahid. Several players trained by Shri Singh have been provided Arjuna Award by Government. On the occasion he discussed about importance of sports in our life. He said that sports helps in leading to increased concentration, enhanced memory, stimulated creativity, and better-developed problem solving skills in students. With the help of various sports, students develop connections that bond together people from all walks of life and make them a responsible citizen. He further appealed students that wherever they go, they must carry the sportsman spirit with them.
Earlier welcoming the chief guest and participants, Prof. P. N. Jha (Director, SMS Varanasi) said that sports aim at imparting lessons on sportsman spirit and camaraderie to children. He also advocated that Sports acts as a catalyst in overall development of the students. The Chief Guest declared the meet open by lighting the Sports Torch followed by Oath taking ceremony in which the students solemnly pledged to uphold the spirit of true sportsmanship.
On the occasion Cricket, Volleyball, Badminton, 100 Meter Race, Tug of War, Table Tennis, Carom, Chess etc were organized in which students from all the courses participated with great zeal and vigor. Students exhibited their talent and skill along with team spirit in all the dimension of the sport.
Winners of different games were Cricket-BCA 4th Semester, Volleyball-MBA 2nd Semester, Badminton (Boys)-Avinash (PGDM 4th Semester), Badminton (girls)-Shalini Singh (MBA 2nd Semester), Tug of War (Boys)-PGDM 4th Semester, Tug of War (Girls)-MBA, 100 Meter Race (Girls)-Garima (MBA 4th Semester), 100 Meter Race (boys)-Milind Kapoor (BBA 4th Semester), Table Tennis (boys)-Raghvendra Khemka (B.Com 1st Year), Table Tennis (girls)-Simaran Singh (BBA 2nd Semester), Chess (boys)-Akash Shamra (BBA 4th Semester), Chess (girls)-Arpita Mishra (BCA 6th Semester), Carom (boys)-Siddhartha (BCA 2nd Semester) and Carom (girls)-Nadia Shafique (MBA 4th Semester).
Later in the Valedictory session Prof. P. N. Jha appreciated the winners and gave them trophies and certificates. Event has taken place under coordination of Mr. Sunit Kumar Mishra, Assistant Professor, SMS Varanasi with the remarkable support of faculty and staff members. Dr. M. P. Singh (Executive Secretary, SMS Varanasi) appreciated the students and faculty members for their commendable efforts in different games. Inaugural and Valedictory sessions were coordinated by Dr. Pallavi Pathak, Assistant Professor, SMS Varanasi.
---