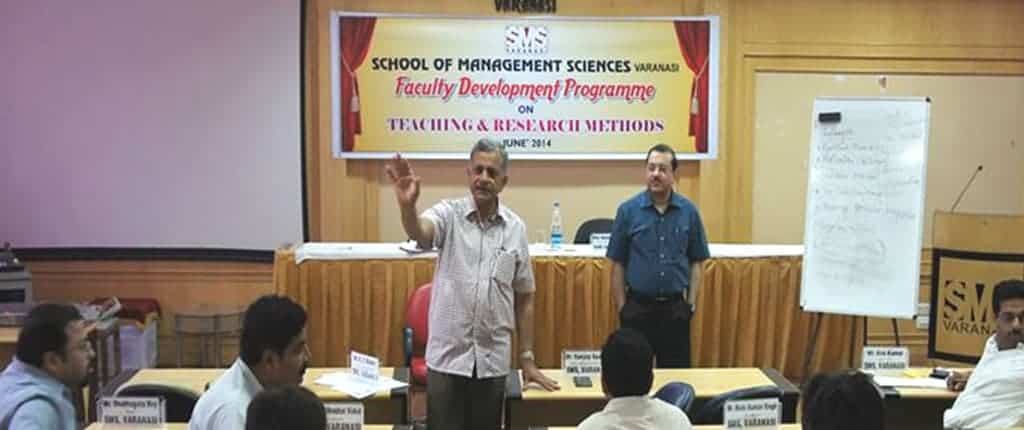 FDP on Teaching and Research Methods, June 2014
The week-long Faculty Development Programme on Teaching and Research Methods concluded at the Khushipur campus of School of Management Sciences (SMS), Varanasi with trainers making faculty members realize a point that not doing Research makes a faculty professionally obsolete. The programme was inaugurated by Prof. Manas K Mandal (Director General-DRDO) along with Prof. Anand Prakash (Delhi University) who dealt with the Quantitative and Qualitative aspects of Research and highlighted the changing nature of researches along with the challenges which faculty members need to counter in the current socio-economic and cultural set up. Several workshops were organized during the entire programme through which various conclusions were drawn.
Prof. Mandal during his deliberations said that the route to remain competent is only one continue to do Research. He exhorted the faculty members to go beyond the rituals, develop attitude for Research. He talked at length about various facets of research Methodologies in Social Sciences and Computing. He also commented on strategizing Research. He stressed on the fact that there should be continuous training for the trainers and one must have the tendency even to unlearn in order to learn new things. Later he also commented on the ethical issues of research.
Prof. Anand discussed the nuances of Qualitative Research and highlighted the role of narratives in Research methods. Narratives are in the form of tragedy, romance, satire and humor and these pervade everyday lives. Narrative is immortal, he added. Movies were later shown to discuss applications and implications of Qualitative Research. Prof. AK Tripathi (IIT-BHU) talked about collaborative learning in classrooms and discussed the issues, challenges and problems in research. He said science helps in disambiguation (or quantification) of Qualitative assertions.
Later Prof. PN Jha (Director SMS Varanasi) gave certificates to all the participants. The Executive Secretary, SMS Society Dr. MP Singh and the Registrar, Mr. Sanjay Gupta was also present on the occasion. The programme was conceptualized by Dean (Management Sciences) Dr. Sanjay Saxena while it was conducted by Mr. Amit Kishore Sinha (Assistant Professor)
---