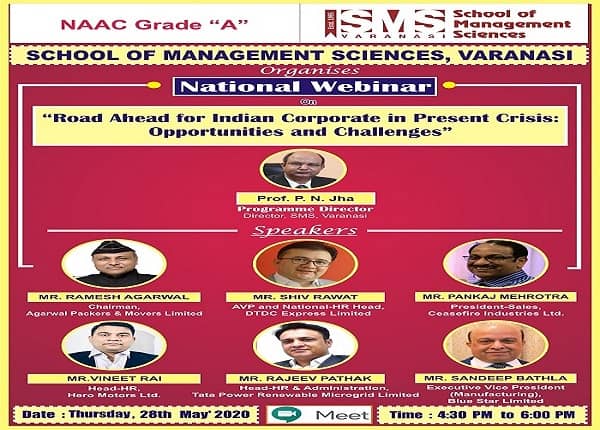 Webinar on Road Ahead for Indian Corporate in Present Crisis: Opportunities and Challenges
School of Management Sciences, Varanasi, has organized National Webinar "Road Ahead for Indian Corporate in Present Crisis: Opportunities and Challenges" on May 28th from 4.30 PM to 6 PM. The key resource person for this webinar were Mr. Ramesh Agarwal Chairman Agarwal Packers & Movers Limited. Mr. Shiv Rawat AVP and National-HR Head DTDC Express Limited. Mr. Pankaj Mehrotra President Sales, Ceasefire Industries Ltd. Mr. Vineet Rai Head HR Hero Motor Ltd. Mr. Rajeev Pathak Head-HR & Administration, Tata Power Renewable Microgrid Limited. Mr. Sandeep Bathla Executive Vice President (Manufacturing) Blue Star Limited.
Prof. P. N. Jha Director School of Management Sciences Varanasi warmly welcomed the resource persons and participants nationwide. Prof. Jha stated that todays business organizations had been heavily hit by this Covid19 and facing serious imprecations. The CARE rating agency has indicated that Indian GDP would be expected to be around one-percent during 2020-2021. Among all sectors, the job market been heavily hit, and organizations today are laying off to sustain themselves in the current market scenario. But in every bad situation, there exist immense opportunities for prospects and growth. These times should be used by the organization to look for a paradigm shift and go into self-introspection. Soon this all will be over, and we all be heading toward a new journey.
Mr. Rakesh Agarwal stated in his deliberation about the effect of this pandemic situation on the corporate market and leadership. He said that the sound leaders and warriors always remain warriors and the company under their leadership tends to survive in this unprecedented situation. Mr. Rawat stated about challenges and opportunities which Covid19 has brought to the Indian economy. Challenges which our economy is facing is, sense of fear in peoples minds, social distancing isnt been followed everywhere, financial resources are decreasing with the passage of time and biggest challenge will come after covid19 has gone; hard to convince to worker to come back to their workplace, which they have left during this pandemic situation. Opportunities are also knocking economy doors like new business and innovation will take place; creativity will be given more importance against earlier defined rules, and cost-saving for companies as more productivity can be achieved if employees work from home. Mr. Mehrotra talked about three challenges; managing team, managing operation, and adopting a paradigm shift in handling the front end of the customer will be a challenge. Working from will become new normal, but it also has its problems. Shri Vineet Rai shared his views on the term "Important" and "Urgent"; most of us dont understand these two words and often use these words interchangeably. Earlier, our work was in the urgent category and our health in a important category, but the corona era has taught us that our health is urgent and work in important. Apart from this, he also talked about the opportunity which India will be getting due to corona era is that major shifting of the company to Indian soil, which will focus more Indian companies on investing more in R&D, and government to provide adaptability and social acceptance.
Shri Rajiv Pathak talked about the challenges and most important for the student perspective, i.e., this is a golden time for the student to upskill themselves and be ready for the market post covid-19. Mr. Sandeep Batla talked about four effects of covid19 i.e. Phsyical effect, emotional effect, economic effect, and psychological effect, which our economy would be facing in this corona era.
Vote of thanks was given by Mr. Kartikeya Singh Assistant Professor School of Management Sciences Varanasi. This session was coordinated by Mr. Veeresh Tripathi Assistant Professor School of Management Sciences Varanasi.
---