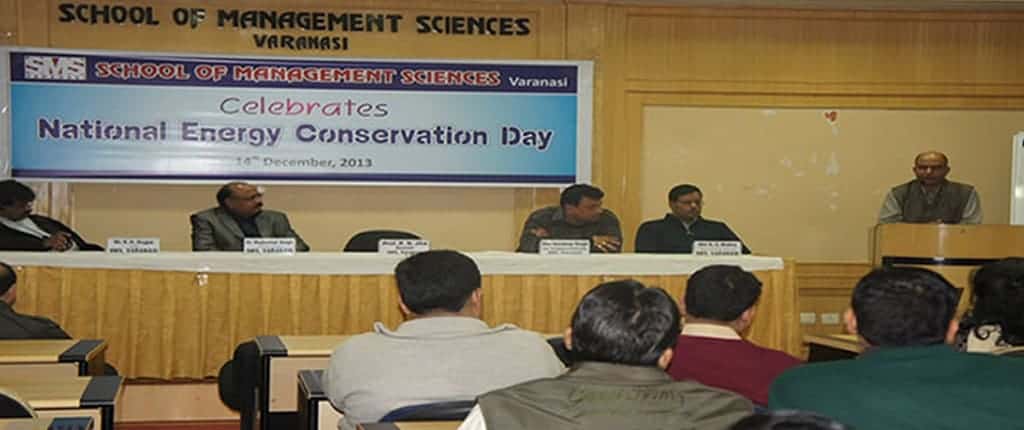 National Energy Conservation Day at SMS Varanasi
National Energy Conservation Day at SMS Varanasi
School of Management Sciences (SMS), keeping up with its tradition of conducting programme towards fulfilling its social responsibility, organised a one day program on National Energy Conservation Day December 14, 2013. Activity took place under banner of Rainbow The Social welfare club of SMS Varanasi.
On this occasion Prof. P.N. Jha, Director, SMS Varanasi, Mr. K.K. Bajpai, Reader, SMS Varanasi, Dr. R.K . Singh, Associate Professor, SMS Varanasi and Mr. K. S. Mishra sensitized the faculty and staff members towards the need and importance of Energy conservation they also shared and suggested different ways to conserve energy.
Prof. Jha discussed the importance and interdependence of various substances in nature. He emphasized on maintaining their proper mix by utilizing the certain specified resources in the rightful manner. Mr. Bajpai & Dr. R.K. Singh talked about practical ways for energy conservation. Mr. Mishra gave vote of thanks to various stakeholders of activity.
Programme was coordinated by Mr. Rishi Raman Singh, Senior Lecturer, SMS Varanasi.
---