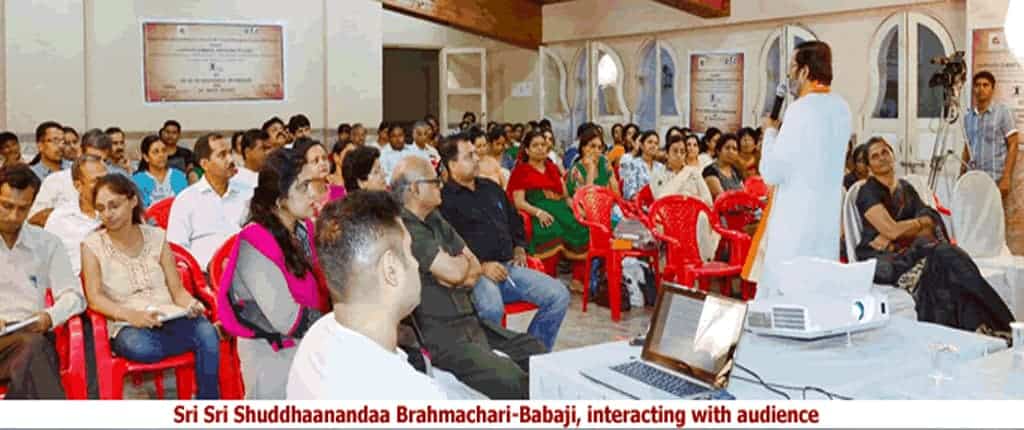 MDP Programe in Mumbai
SMS is pleased to speak out that Centre for Spiritualism (C-SHE) in association Stress Management Academy (SMA) conducted its 3rd MDP program at Mumbai. The Title of the programme was M-Power (Mindful Parenting Power). Programme took place on 24th August 2013 at Gundecha Club, Thakur Village, Kandivali East Mumbai. Session stated at 3 pm at lasted till 8 pm. One hundred three participants of diverse areas attended the programme.

Trainers of the programme were:

Ms. Meera Kothari Director, Counseling & NIOS Goenka & Associates Educational Trust Dr. Nimrat Singh Founder & Director Tangram HR, Ahmedabad Sri Sri Shhuddhanada Brahmachari- Founder, Course in Mindfulness

Programme started with Ganesh Vandana by Shri Kirti Anurag, famous music director and singer. In his introductory speech Mr. Manish Asthana, General Manager MDP, SMS Varanasi informed the audience & guests about SMS Varanasi and C-SHE. He further introduced all the eminent speakers to the participants. The speakers were felicitated by presenting bouquets.

Event included:

Session 1:The first session was conducted by Ms. Meera Kothari- Director Counseling & NIOS at GAET (Goenka Associates and Educational Trust). Ms. Kothari has a Masters degree in clinical psychology from University of Mumbai and has over 25 years of experience in Counseling.

She discussed upon the emotional and behavioral aspects of Parenting. She highlighted various problems that parents face in bringing up todays children and explained in detail all stages of Parenting. With the help of her vast experience in this field she immediately connected to the participants who appreciated her session very much. Session 2:The second session was conducted by Dr. Ms. Nimrat Singh. She is the founder and Director of a company called Tangram in Ahmedabad. Her company specializes in counseling and making psychometric tests for corporates and leading educational institutes. She is an author of a forthcoming book called Powerful Parenting. Dr. Nimrat touched upon the important points in Proactive Parenting. She highlighted how the self-esteem of a parent affects the upbringing of the child. Audience highly appreciated the session. Session 3:The third session was conducted by Sri Sri Shuddhaanandaa Brahmachari, lovingly called as Babaji. During his interactions Babaji stressed on the fact as most important point in todays world is conscious parenting as compared to age-old asserting parenting. Babaji said that parents should not focus on children but essentially on their own inner life till they are centered and calm to awaken the power of spirit. Audience found the idea of blending spirituality with parenting to be unique in nature. After the three electrifying sessions, a formal written and recorded feedback session was conducted followed by vote of thanks.
---