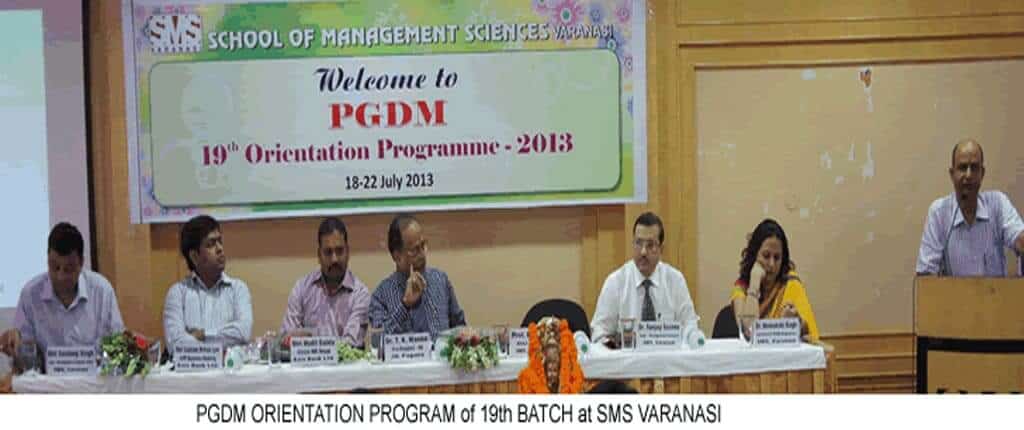 PGDM Orientation Inaugural- 2013
The Four-day Orientation Programme at School of Management Sciences (SMS) Varanasi for the 19th batch of Post Graduate Diploma in Management (PGDM) started at the Khushipur campus with the Chief Guest, Dr. T. K. Mandal (VP-HR, JK Papers) exhorting the fresh students to embrace morality in all their endeavours to become successful in organisations as well as their life. He said that it is a good phenomenon to see that young breed of executives now-a-days are socially very active and he expects the same from budding managers at SMS.
The Guests of Honour on the occasion from the corporate sector, Shri Gautam Mohan Iyer (AVP, Business Banking, Axis Bank Ltd.) and Shri Mudit Dalela (Circle HR Head, Axis Bank Ltd.) emphasized on the need to be more agile in the current business scenario. Citing life examples, they focused on the need to become habitual to stressful situations in Corporate Life. They also stressed on the need to be updated everyday for gaining better insight into business world. The important things in life include a good attitude, personality, knowledge and openness to learning. The Guests later released the new issues of journals Management Insight, Purushartha and newsletter SMS News.
Earlier, welcoming the dignitaries, the Director, SMS Varanasi, Prof. P. N. Jha said that people in common have big hopes from management professionals and SMS would train the students how to become better citizens, both for corporate as well as for personal life. He said that change is so fast today that there is no crystal-bowl solution but SMS provides the basic knowledge and leadership framework so that the budding managers may do their duties with perfection. Welcoming the new batch of PGDM students, he said that such an orientation programme is academic and environmental socialization for them.
The Dean (Management Sciences), Dr. Sanjay Saxena gave a briefing about the PGDM programme while Shri K. K. Bajpai (Reader) presented the SMS Preamble. The star attraction of the Orientation programme is the presence of Prof. Atul Tandan (Former Director-Mudra Institute of Communications, Ahmedabad & advertising Industry stalwart) on Saturday where he would interact with the students and faculty of SMS Varanasi separately in two different sessions. In the four-day programme, students are being exposed to the SMS system on different parameters.
The first day also witnessed deliberations by Dean (R & D), Shri Alok Kumar on Industry centric curriculum, pedagogy and Evaluation Systems at SMS and also by Dean (Development & Student Affairs), Shri Sandeep Singh who talked about Historical and Philosophical Foundations of Business). The Programme was coordinated by the PGDM Coordinator, Dr. Meenakshi Singh (Reader) while the vote of thanks was proposed by Shri Sandeep Singh.
---