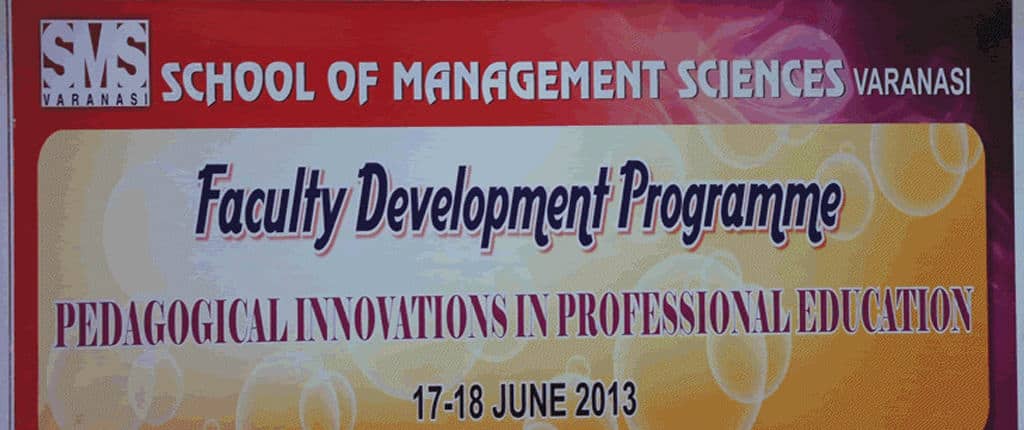 Faculty Development Program on Pedagogical Innovations
In a two-day unique Faculty Development Programme (FDP) on Pedagogical Innovations in Professional Education at the prestigious School of Management Sciences (SMS) Varanasi campus, it was a firm opinion that a modern day teacher has to go beyond the traditional lecturing and the act of information disseminators, for the technology is able to do the same more easily. A galaxy of trainers encompassing Prof. Anand Prakash (Delhi University), Prof. B. P. Singh (Formerly with Delhi School of Economics), Prof. K. P. Pandey (former VC-MG Kashi Vidyapith), Prof. R. C. Mishra, Prof. S. K. Singh and Prof. P. S. Tripathi (all three from BHU) were present at the SMS Campus to sensitize the teachers of SMS Group of Institutions from both the Varanasi and Lucknow campuses of SMS.
Prof. Anand Prakash talked about the art of teaching which he said, must be left to the subjective experiences of individuals. He also opined on the cultural challenges of education. Deliberating on ways for artful teaching, he said that the style of communication needs to be changed now, the agenda setting baton must be slowly passed on to the students along with the ownership to learn. Teachers should inspire their students in the era of cultural transition. An element of theatre needs to be brought in to the classroom. The critical thinking habit of students should be cultivated and developed. The usage of social media too can be helpful in such a context. The best way to make a student learn is to make him /her practice, he said while quoting Gandhiji Human hand is the second mind.
Prof. B. P. Singh through his talk on Innovative pedagogy in management education said that teaching in humanities is different from other streams; here it needs flight of imagination. Citing various studies across the world, he said that we have to make our students adaptable to the nations requirements. He focused on the teachers to develop in student the missing employability skills like Attitude, Business ethics, Confidence, communication, basic managerial skills, domain knowledge etc.
Prof. S. K. Singh aired his views on Bridging the skill gap through pedagogical innovations while Prof. P. S. Tripathi mulled upon Enhancing students involvement in teaching-learning process. He cited Panchtantra method of educating students. Prof. Singh emphasised more on practical skills like team building and motivating others; whereas Prof. Tripathi talked about practicing the value system.
Prof. R. C. Mishra discussed at length the importance of communication and para-languages in teaching. He emphasised on strength of traditional class room teaching. He talked about four components related to teaching. Student is in the centre of all the activities and teacher fecilitates him to know new things. Both the parties are further influenced by academic institution and society.
Prof. K. P. Pandey delivered his talk on Becoming an effective teacher and highlighted the importance of 21 attributes for a modern and contemporary teacher being effective. He said that we learn a fourth each from our teachers, our inherent talents, peers and rest one fourth by passage of time. He further said that challenge of each human being is creation. In lack of creation his existence dont make any difference in the society.
Earlier the Director of SMS Varanasi, Prof. P. N. Jha welcomed and felicitated the Guest speakers / trainers. More than 50 teachers from both SMS campuses attended the programme for which they were given the certificates and a copy of original text on Panchtantram. The Coordinator-FDP Dr. Sanjay Saxena, Registrar Mr. Sanjay Gupta were also present along with the Executive Secretary Dr. M. P. Singh. The programme was anchored by Dr. Meenakshi Singh (SMS Faculty).
---