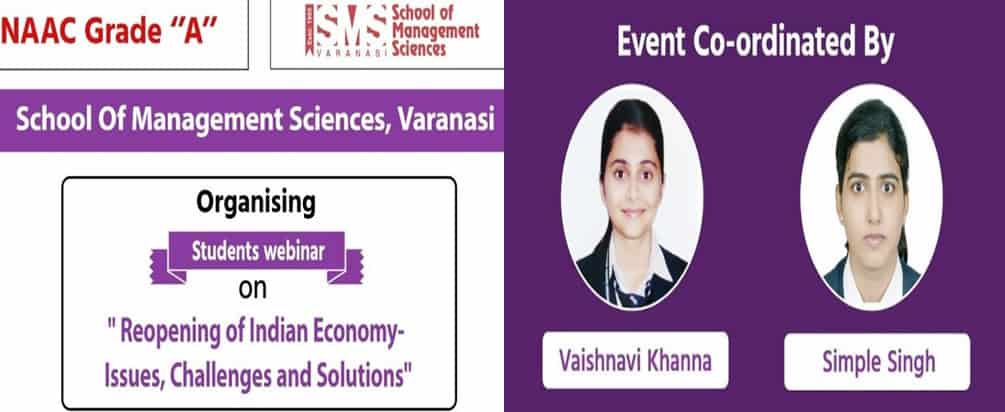 Webinar on Reopening of Indian Economy- Issues, Challenges and Solutions
School of Management Sciences Varanasi organized a webinar on Reopening of Indian Economy- Issues, Challenges, and Solutions on May 22, 2020, from 4:00 PM to 5:00 PM. This program was organized for PGDM students, where students themselves presented and shared their views on issues and challenges related to the opening of the Indian economy during this on-going pandemic era.
Discussion in this webinar revolved around the Indian economy, where students stated that Indians are facing a paradox during the Covid-19 crisis. The majority of them favour opening up of economy and businesses, but still, many others are nervous about leaving their homes for work and travel. Challenges related to Hotel Industry was also taken into consideration, whereby solution only which came in mind is that Hotel and restaurant chain can start their take away and allowing less stays with full and proper SMS (Sanitizer, Mask and Social Distancing) measure. Auto Industry can now use PPE kits as it is available cheaply in the Indian market for their employee working in the manufacturing unit and also for the consumer who is coming to test the car before buying. The agriculture sector should take care of social distancing; students also appreciated the governments new measure taken to boost agriculture production and distribution. Apart from this, various other sectors like Travel and Tourism sector, Aviation sector, Railways, were also discussed, and solutions were provided by students, which can be part of the measure taken in the coming future.
The PGDM students who presented their presentation were Ayushi Rai, Mayank Dubey, Garima Goel, Nishant Gupta, Simple Singh, Gracy Singh, Harsh Singhal, Poorvi Kapoor, Tony Joseph Verghese, Vaishnavi Khanna, Shiv Shekhar, Pragati Rai, Mayank Phadke, Akansha Gupta, Vaishali Srivastava, Jaspreet Kaur, Pravesh Gupta, Kajal Jaiswal, Aquib Ahmad Khan.
This webinar was coordinated by Ms. Vaishnavi Khanna and Ms. Simple Singh of the PGDM –II semester School of Management Science Varanasi.
---