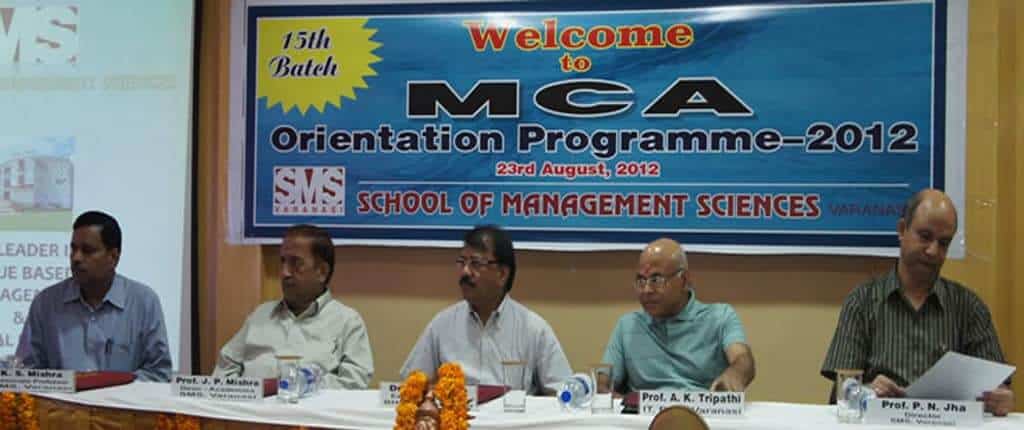 MCA Orientation Programme
The 15th Batch ofMaster of Computer Applications (MCA)programme began at School of Management Sciences on Thursday amidst the august presence ofDr. S. Lomash, ED, BHEL, Jagdishpur, as theChief GuestandProf. A. K. Tripathi, IIT, B.H.U. Varanasias thePresidentfor the occasion. Addressing the inaugural session, Dr. S. Lomash said that students are the wealth of the nation. The present era belongs to IT and proper integration of IT with management is the devine mantra for attaining corporate success. In his presidential speech, Prof. A.K.Tripathi, said that knowledge is one which liberates. The purpose of education is continuous learning throughout life. Students should concentrate on karma rather than fruits of karma. The rate of obsoleteness of knowledge is very high in IT sector. Therefore consistent efforts by students to innovate, create and disseminate knowledge is the success mantra.
TheDirector of SMS, Varanasi Prof. P. N. Jhain his motivating welcome address said that the environment is witnessing tectonic changes which have led to plethora of challenges for the students in future. Therefore students should sharpen their skills, competencies and business acumen to be successful in all their future endeavours.Mr. Shambhu Saran Srivastava (Reader & Coordinator MCA Course)gave the outline of the entire MCA programme structure to the freshers and encouraged them to work hard for becoming a successful professional.Mr. K. S. Mishrainformed the students about the Value added programmes to be carried this year for them.Mr. K. K. Bajpai (Reader)presented the preamble of the SMS.
Other sessions were taken by senior faculty members of SMS-Varanasi including Mr. Rajeev Katare, Reader, Mr. Anand Prakash Dube, Reader, Dr. Ravi Shekhar VishalSenior Lecturer and Mr. Abhishek Srivastava, Senior Lecturer.
Earlier the programme began with the Lightning of the lamp and garlanding of the statue of goddess Saraswati by Dr. S. Lomash, Prof. A.K.Tripathi, Dr. M. P. Singh, Executive Secretary, Prof. P.N.Jha, Director,Mr, Sanjay Gupta, Registrar, SMS. Dr. M. P. Singh, Executive Secretaryand Prof. P.N.Jha felicitated the guestswith the Memento.Prof. J. P. Mishra, Dean, Academicsproposed the Vote of Thanks. The innaugral session was coordinated byMs. Indrani Sengupta (Lecturer, SMS). On the occasion all the faculty members were also present.
---