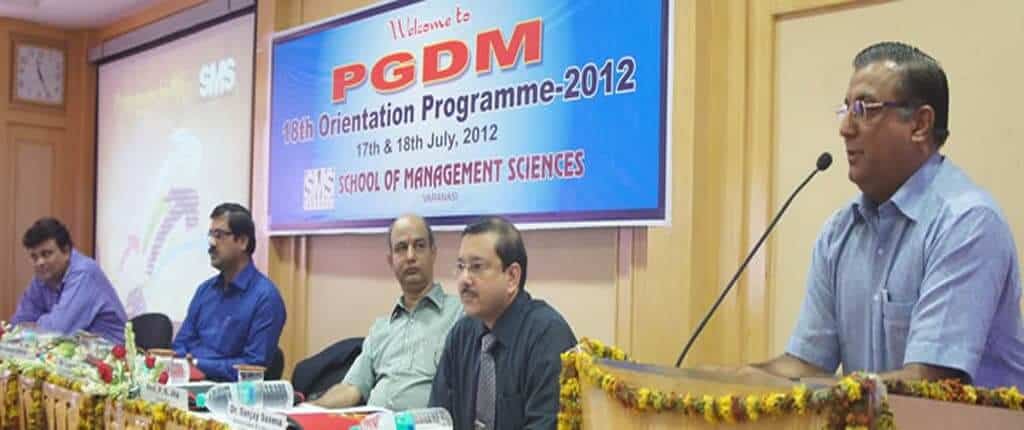 Inaugural of PGDM Orientation Program at SMS Varanasi
The Eighteenth batch of the AICTE approved Post Graduate Diploma in Management (PGDM) programme got-off to a flying start at the Khushipur (Bachhaon) campus of School of Management Sciences (SMS) here on Tuesday amidst high profile corporate presence, which includedMr. Rakesh Seth (Sr. Vice President- Group HR, Fedders Lloyd Corporation Ltd., Lloyd Group) as Chief Guest & Mr. Subhamay Chatterjee (Head HR, Bajaj Corp. Ltd.) as Guest of Honor.
In his Presidential address in the Inaugural session,Chief Guest, Mr. Rakesh Sethcongratulated the new comers for being selected by the prestigious SMS-Varanasi campus for the flagship PGDM course and motivated them to identify their vision in long run. He commented upon the vast career possibilities after completion of PGDM Program. He also appreciated the courage of students for investing two year time period for their development.
The Guest of honor, Mr. SubhamayChatterjee said that success lies in unity. He elaborated that Physics deals with concept of Energy, which can not be destroyed, only forms can be changed. Chemistry deals with various elements & tries to search single element as the root element for all other ones. In the same manner religion deals with single power or God. Out of such examples he summarized about presence of single concept of unity in every stream.
In his welcome address, the Director of SMS-Varanasi,Prof. P. N. Jhawelcomed the fresh PGDM students along with the dignitaries gracing the occasion and said that ever since SMS launched the PGDM programme in 1995, the corporate world has always extended the much sought support to it due to which there happens to be a strong alumni network across the country in almost every industrial sector. He suggested the students to be regular in the institution and class room interactions, so that they can best use the available resources. He discussed about the various important subjects in two year duration at SMS Varanasi. Most importantly he emphasised the subjects like Leadership and Indian Ethos and also motivated the students to extract the best possible knowledge from their faculty members.
Mr. K. K. Bajpai(Reader, SMS Varanasi) presented the preamble of SMS including Vision, Mission, Quality policy and Guiding values. In this way he made the students friendly with culture at SMS Varanasi. The Chairperson (Training & Placement, SMS Varanasi and PGDM Coordinator)Dr. Sanjay Saxena(Associate Professor) gave a feel of the entire PGDM programme structure to the freshers. Being caretaker of Placement Activities, he shared the insights of corporate expectations from budding managers. He also emphasised upon need of in-depth knowledge of subjects, which can be availed from innovative teaching methods at SMS and developing skill set as per corporate expectations.
The Vote-of-thanks was given byMr. Sandeep Singh(Associate Professor, SMS Varanasi). In his address he discussed the need of connectedness to the world. He summarized that to succed in business taking care of society is must. This is a reciprocal relationship
The inaugural session was coordinated byDr. Meenakshi A. Singh(Senior Lecturer). Later the Guests were felicitated by the Executive SecretaryDr. M. P. Singhand the DirectorProf. P. N. Jha. On this occasion,Mr. Sanjay Gupta(Registrar),Prof. J. P. Mishra(Dean-Academics),Mr. Alok Kumar(Associate Professor) and other faculty members were also present. In the two-day long orientation programme, students would be exposed to the functioning of SMS besides anecdotes on Marketing, HR, Finance, Operations, Spirituality and Human Values, by the corporate big-wigs and senior faculty members of SMS.</p.
---