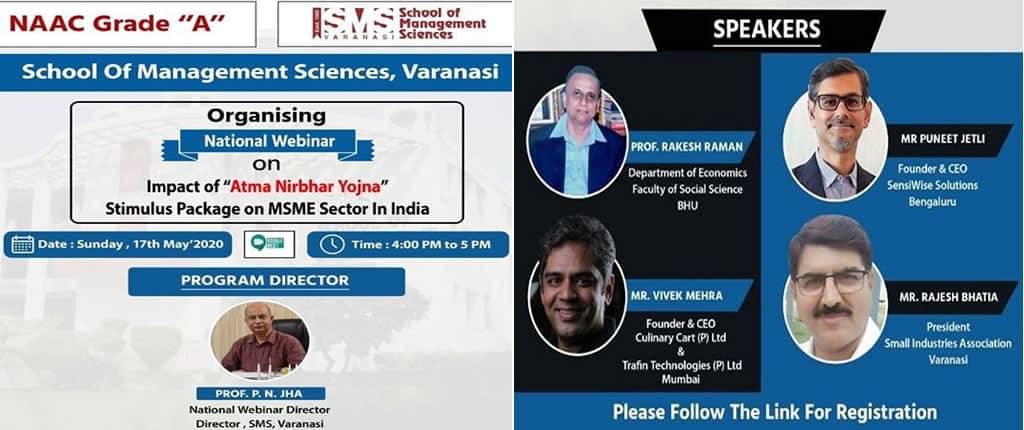 Webinar on "Impact of Atmanirbhar Yojna Stimulus Package on MSME sector in India"
SMS Varanasi successfully organized a Webinar on the "Impact of Atmanirbhar Yojna Stimulus Package on the MSME sector in India" on 17th May 2020. More than 200 Participants across the country attended the webinar. The key resource persons for this webinar were Prof. Rakesh Raman Department of Economics Faculty of Social Science Banaras Hindu University. Mr. Vivek Mehra Founder & CEO Culinary Cart (P) Ltd& Trafin Technologies (P) Ltd Mumbai. Mr. Puneet Jetli Founder & CEO SensiWise Solutions Bengaluru. Mr. Rajesh Bhatia President Small Industries Association Varanasi.
Prof. P. N. Jha Director School of Management Sciences Varanasi heartily welcomed the resource persons and participants across the country. He stated that this natural calamity had brought immense problems in all walks of life, everyone is going under a paradigm shift, and the birth of a peculiar structure is taking place in our society. Two important points which he focussed on were social distancing and herd immunity. The economic sector has got the worst hit in decades where GDP has touched 2 percent, and further reduction been seen in the coming days. As MSME sector forms to be backbone and engine of our economy, it becomes imperative that this should be focussed firstly, which the Indian government has done by providing a bailout package for this sector.
Prof. Rakesh Raman shared his view on Atmanirbhar Yojna Stimulus Package on the MSME sector in India. He stated that the MSME sector gives around 21 percent of employment, 48 percent export in our country. Sixty-nine million MSME contribute 30 percent GDP, 31 percent of manufacturing trade, 33 percent of service trade. Hence giving a boost to the MSME sector helps to remove stagflation and falling supply in the economy and also boost the related sector. Mr. Jeli shared his practical view that agriculture and MSME gains a lion share in this stimulus package, and gave rating 60 to 70 percent out of 100. Mr. Mehra compared this stimulus package with the peer countries who have also given this same kind of package in their economy. As per him, this stimulus package caters to three main aspects in our economy i.e., supporting citizens, preserving their jobs, and helping companies to survive. Mr. Bhatia discussed the liquidity problem, how the factory to work as a labour crunch, and the market is not open in full swing.
This webinar was coordinated by Dr. Sofia Khan, Assistant Professor School of Management Sciences Varanasi.
---