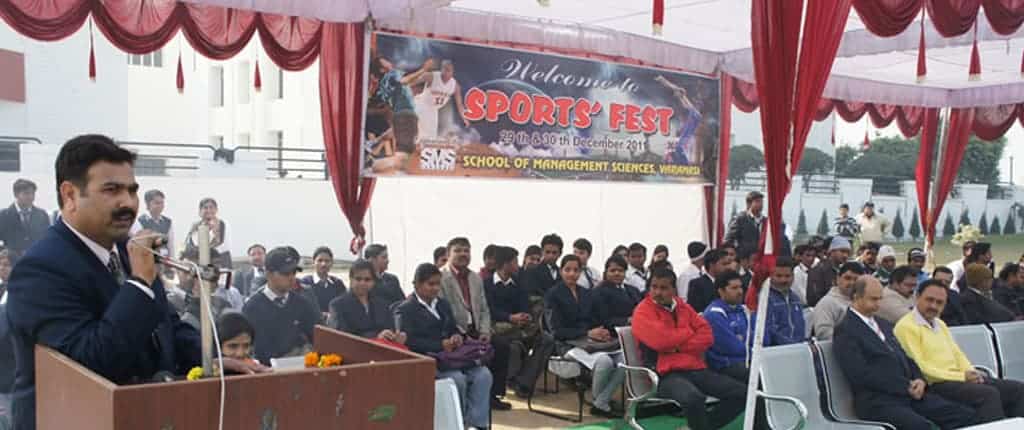 Sports Fest-2011 Inaugral at SMS Varanasi
A three day Intra-Institute sports competition began at School of Management Sciences (SMS) today with high euphoria, zeal and verve among the students as well as the faculty and staff members of the SMS fraternity. Inaugurating the Sports Fest 2011Chief Guest Dr. Satish Kannojia, Chairman Sports Cell at Institute of Technolgy, B.H.U. Varanasisaid that it is good to see management students embracing sports because sports helps in quick decision making. Also, sports helps us gain mental peace and health and develops our personality too. He invited the SMS students to participate in sporting events held at I.T., B.H.U. from time to time.
The Sports Fest 2011 was declared open by Dr. Satish Kannojia by the beat of the drum and igniting the ceremonial flame followed by a march past by the participating teams from PGDM, MCA, BBA & BCA courses. It was followed by the pledge taking ceremony.
Earlier welcoming the guestProf. P. N. Jha, Director, SMSsaid that such an intra-institute sports competition of such magnitude is being conducted regularly. Prof Jha further said that healthy mind resides in a healthy body and therefore such sports activities are inevitable. It not only provides good health but sharpens the mental ability and agility too.
<s
---