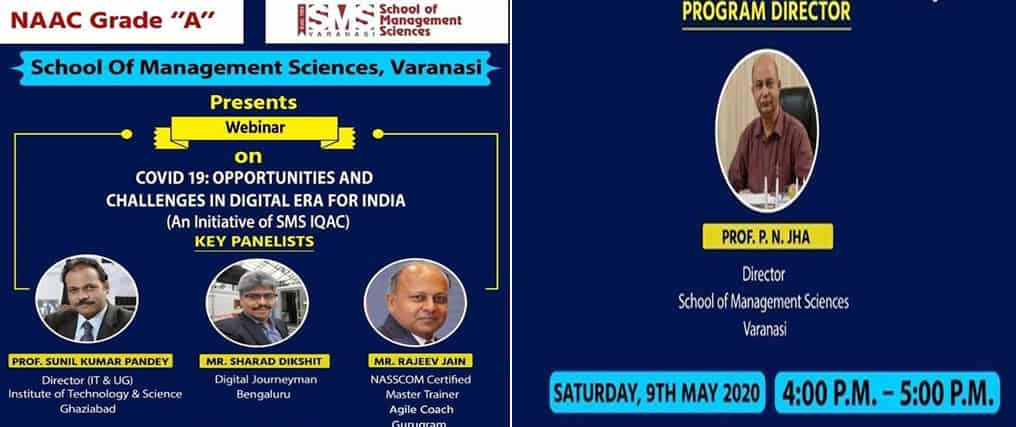 Webinar On Covid 19: Opportunities and Challenges in Digital Era for India
SMS Varanasi organized a Webinar on COVID 19: Opportunities and Challenges in Digital Era for India on May 09, 2020. The key resource persons for this webinar were Mr. Sharad Dikshit Digital Journeyman Bengaluru. Mr. Rajeev Jain NASSCOM Certified Master Trainer Agile Coach Gurugram.
Prof. P. N. Jha Director School of Management Sciences Varanasi heartily welcomed the resource persons and participants across the country. Resource persons stated that this pandemic would bring a lot of opportunities in the area of banking, retail, taking India to a totally new platform, now people will be more inclined toward using technology in their daily habit like making payment.  OTT has already been found as substitutes of movie hall where people at their own place can enjoy; this phenomenon will not be rested with urban rather this ll also penetrate in the rural area where more market will be there for digital-based companies. Lots of Innovation ll be taking place again. In the education sector, there ll be challenges in the beginning, but with the passage of time, this ll be taken care of. As per the IIT Kanpur survey, it was found that course content will be uploaded for the student has not yet been downloaded by the majority of students since they face problems in downloading; these problems have to be taken into consideration.
This webinar was coordinated by Dr. Kamal Sheel Mishra Professor School of Management Sciences Varanasi.
---