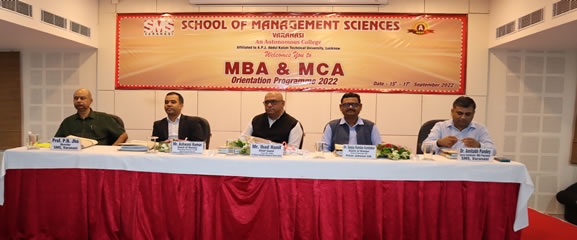 MBA & MCA Orientation Programme – 2022 @ SMS Varanasi
Three-day orientation program started at School of Management Sciences, Varanasi. Addressing the inaugural session of Orientation Program organized jointly for MBA and MCA courses conducted in the institute, Prof. P.N. Jha, Director, SMS said that the new education would be imparted to the students. The institute is fully dedicated to prepare as per the policy. Encouraging the students to acquire machine learning and other technical knowledge, Prof. Jha said that understanding the importance of time is like taking the first step towards success. But rapid changes are taking place in all the fields including education, management, technology, it is the need of the hour to understand these changes and mold oneself accordingly.
Mr. Sanjay Ramdas Kambekar, General Manager (HR), Prism Johnson, who was present as the chief guest in the inaugural session, while addressing the newcomer students said that you are now on the way from mere student to professional. Emphasizing on self-management, Mr. Kambekar said That one can become a leader in the future only by bringing the qualities of management into his own lifestyle. Purposefulness, patience and passion are the key to success. Chief Guest Mr. Ibad Hanif, Head, National Commodities Management Services Ltd. apprised the students about the important facts to be kept in mind during the campus placement.
The Chief Guest, Mr. Ashwini Kumar, Managing Director, Utkarsh CO Investment Ltd. was present in the orientation program. He called upon the students to keep time and ethics at the topmost position in life. In the inaugural session, Prof. Avinashchandra Soupkar read the preamble of SMS, Varanasi. The session was conducted by Dr. Pallavi. Pathak and vote of thanks was given by Dr. Amitabh Pandey. During this other technical sessions were conducted by Dr. Bhavna Singh and Dr. Sofia Khan respectively.
During this, Executive Secretary of SMS, Varanasi Dr. M.P. Singh, Director Prof. P.N. Jha, Registrar Mr. Sanjay Gupta and all the teachers and staff were present.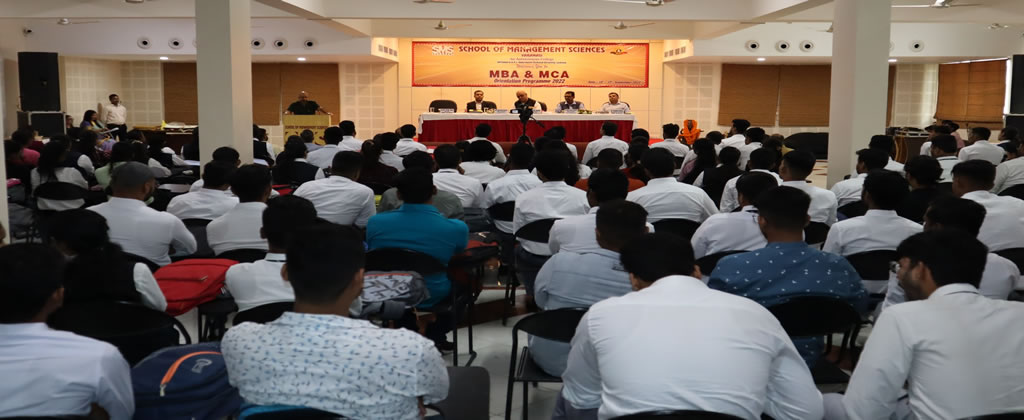 ---