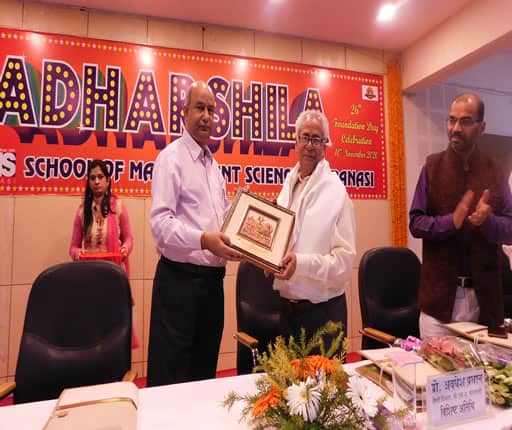 26th Foundation day "Adharshila" celebrated at SMS Varanasi
School of Management Sciences (SMS), Varanasi completed. Twenty Six years of its establishment. On this prestigious occasion, foundation day "Adharshila" was celebrated with full fervor and exuberance. SMS is accredited with an A grade by NAAC. lt is among Indias top 50 Best Business Schools. More than 2500 students shape their future in this premier institute.
The foundation day program began with the welcoming of the guests by the Director of the institute Prof. P. N.Jha.Thanking all the stakeholders of the institute, Prof. Jha said that their hard work and commitment was the prime reason that has made the institute an important landmark in the field of management studies. Established in 1995, SMS has gained new heights and has never looked back. Prof. Jha highlighted the key achievements of the institute during its journey of 25 years.
Chief Guest of the function, Prof.Awadhesh Pradhan, Hindi Department, Banaras Hindu University, Varanasi, expressed his delight over the completion of 26 years of the Institute. He said that SMS has not only enriched academia in the field of management studies but also has added a golden chapter in the history of the making of modern Kashi. Prof. Pradhan delivered his key-note address under the auspices of Swami Vivekananda Memorial Lecture. His deliberation focused on the theme "Swami Vivekananda and Upcoming India". Discussing the discourse delivered by SwamiVivekananda in Chicago, Prof. Pradhan Said that Swamiji viewed all religions and every religion that exists on this earth takes.us to truth and only truth. He further said that this very discourse of Swamiji left an indelible print.on the world forum. Prof. Pradhan further said that Swamiji had a deep and practical understanding of the West and through this understanding! came to the conclusion that Indian religious thoughts are quite liberal but the thinking of the society is very myopic, while the European society is liberal but when it comes to. religion their thoughts seems to very narrow. Therefore, Swamiji said East and West should meet with their different ideologies so that a comprehensive growth of humanity may be possible.
Prof. Pradhan further elucidated that Swamiji gave more importance to remove poverty and illiteracy rather than focusing on religious ethos. The guest of honor of the function Prof. Sacchidanand Mishra, Philosophy and Religious Department, Banaras Hindu University, Varanasi delivered his key-note address on the theme "SwamiVivekananda-Definition of Modern India". Explaining the meaning of "Sannyasi", Prof. Mishra said that Sannyasi is one who leaves everything pertaining to worldly affairs and aspire to get liberation. The path to Liberation is a very personal one, but SwamiVivekanandi is a Sannyasi who for the sake of building of society and nation as a whole, took the help of practical Vedanta. Swamiji was never in support of an education system that talks of principles and ideals only. He laid more emphasis on practical education. ln words of SwamiVivekananda "you. need to be practical in every sphere of your life. The pile of ideals and principles will lead to only decay of the nation.
SMS Varanasi, as per its tradition, honor; red its l8 employees for rendering their uninterrupted services for 25,20, 1 5, and l0 years to the institution. For providing an un-interrupted session for 25 y6ars, the employees who were felicitated included Shri Sanjay Kumar Gupta (Registrar), Shri Shantanu Mukherjee (Accounts Officer), Mrs. Pratima Bhargava (Librarian), Shri, Harikant Yadav, and Smt. Shakuntala Devi. For providing un-interrupted session for 20 years, Shri Anand Prakash Dube (Associate Professor), Shri Krishna Kant Bajpai (Director-Systems), Shri Prem Bhushan Singh (Project Manager), Shri Girijesh Singh Gautam (Assist. Librarian), Shri Mahendra Pratap Singh (Office Executive), Shri Ajay Kuma Singh (Sr. Supervisor) and Shri Rajesh Kumar Gupta.a. For providing an uninterrupted session for 15 years, Prof. P N. Jha (Director) and Shri Ramesh Kumar. For providing an uninterrupted session for 10 years, Shri Shailendra Kumar Pandey (Asstt. Programmer), Shri Mithilesh Prasad, Shri Sujit Kumar Singh, and Shri Awadhesh Kumar Rai. Felicitation of the employees was done by the Executive Secretary, Dr. M. p. Singh, and Director, Prof. P. N.Jha. The Programme was conducted by convener Adhryshila Dr. Pallavi Pathak (Associate Professor) and a vote of thanks proposed by Prof. Sandeep Singh (HOD-Management & Mass Comm, Dean - Student Welfare). Executive Secretary SMS, Dr. M.P Singh felicitated the guests by presenting them with mementos. The Programme had the graceful presence of the Executive Secretary of the Institute, Dr. M.P Singh, Director, Prof. P.N Jha, and Registrar Mr. Sanjay Gupta.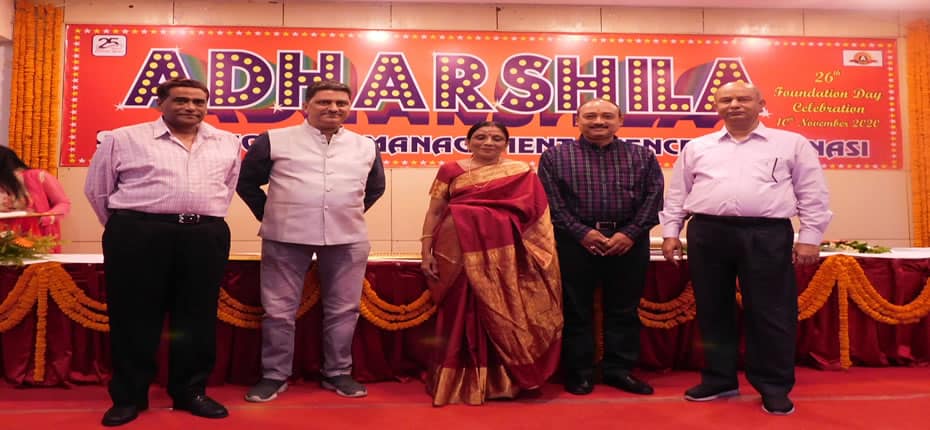 ---