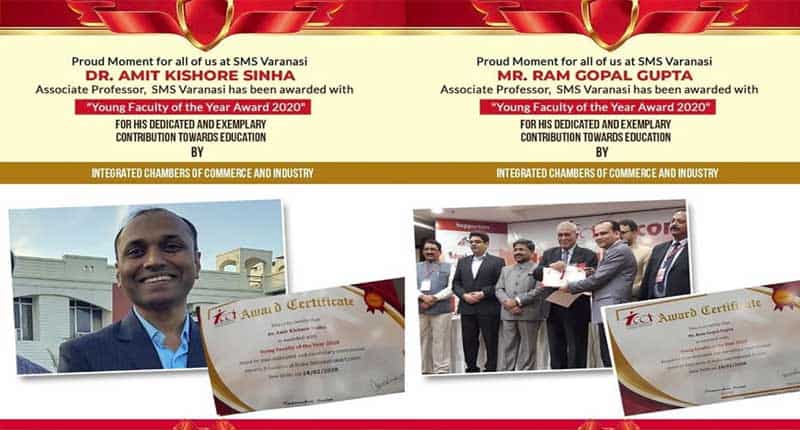 Young Faculty of the Year Award 2020
Dr. Amit Kishore Sinha, Associate Professor and Dr. Ram Gopal Gupta, Professor at School of Management Sciences, Varanasi has been awarded with Young Faculty of Year 2020, for his exemplary contribution in area of education at Second National Educational Execellence Conclave by Integrated Chamber of Commerce and Industry New Delhi on February 24, 2020.
School of Management Sciences, Varanasi has also been conferred With "Best Higher Education Institute For Management 2020" Award by Integrated Chambers of Commerce and Industry, Program held at India International Centre, New Delhi.
"Young Faculty of the Year Award 2020" ICCI Award received by Prof. K.K. Agarwal, Honourable Chairman, National Board of Accreditation (NBA)- MHRD at India International Center, Lodhi Estate New Delhi in presence of Mrs. Meenakshi Lekhi, Honorable MP and National Spokesperson- BJP, Prof. Hariharan: Advisor (Approval) AICTE-MHRD, Dr. Biswajit Saha: Director CBSE-MHRD, Mr. Sanjiv Goswami: Managing Director- Springer Nature, Dr. Sandeep Marwah: Chancellor, AAFT University, Mr. Kamalendu Bali: Director-General ICCI & Senior Director Concentrix, Prof. Pankaj Gupta: President- IIHMR, Dr. Davish Jain: Chairman- Prestige Group of Industries, Prof. Amiya Bhoumick: CEO & Vice-Chancellor- Lincoln University College Malaysia, Mr. Kunwar Shekhar Vijendra: Chancellor- Shobhit University, Prof. N.K. Sinha: Vice-Chancellor- Himalayan Garhwal University, Prof. M.K. Vajpayee: Vice-Chancellor -Capital University, Prof. Abhay Kumar: Vice-Chancellor- IEC University, Dr. Sandeep Pachpande: Chairman- ASM Group of Institution, Dr. Anupam Chouksy: Secretory- LNCT Group of Institutions etc.
Chairman Dr. M. P. Singh, Director Prof.  P. N. Jha and Registrar Mr. Sanjay Gupta of SMS Varanasi congratulated both the senior faculty memebers.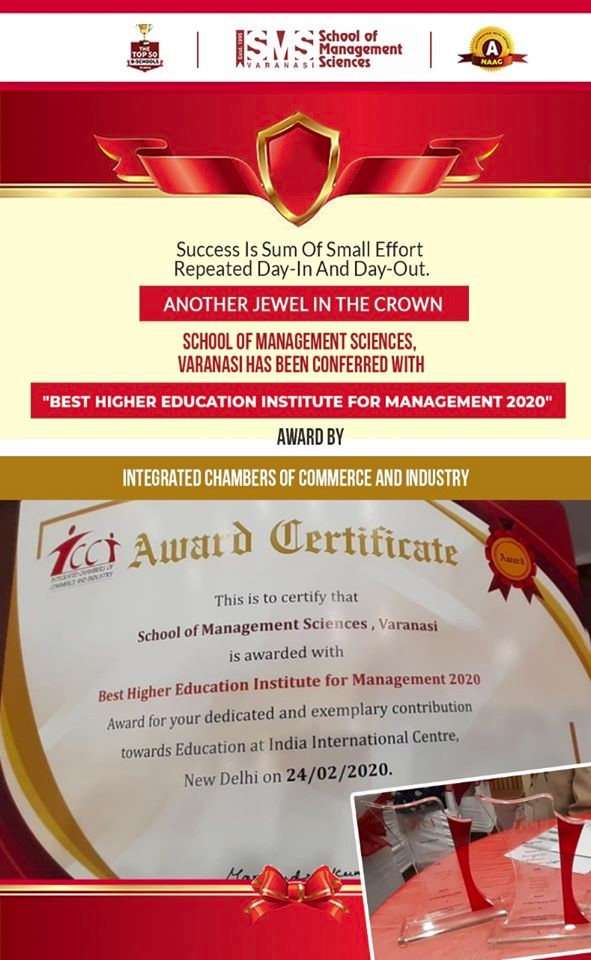 ---