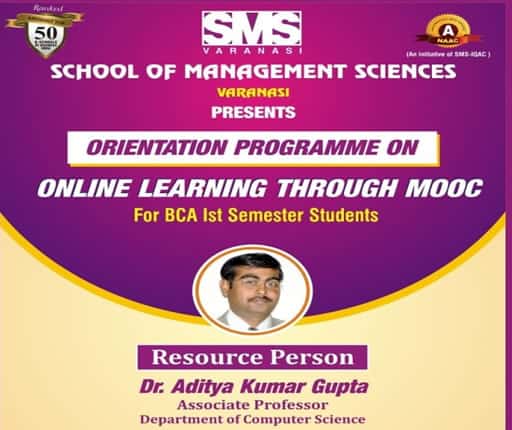 Orinetation Programme on Online Learning Through MOOC (BCA 1st Semester Students)
School of Management sciences Varanasi, conducted orientation programme for BCA 1st semester Students by Department of Computer Science on the sixth theme "Online Learning through MOOC" on Saturday, 31st October 2020. The main keynote speaker Dr. Aditya Kumar Gupta, Associate Professor, SMS, Varanasi in his wonderful deliberation made students aware of various dimensions of the topic.
The complete session was coordinated by Mr Vikash Chandra Sharma, Assistant Professor & Co-Coordinator BCA Programme, SMS Varanasi. Special thanks to our Dean (System & IT), HOD- Computer Science Prof. Kamal Sheel Mishra, Professor, SMS Varanasi and Coordinator BCA Programme Mr. Anand Prakash Dube, Associate Professor SMS, Varanasi for framing as well as shaping this event.
---