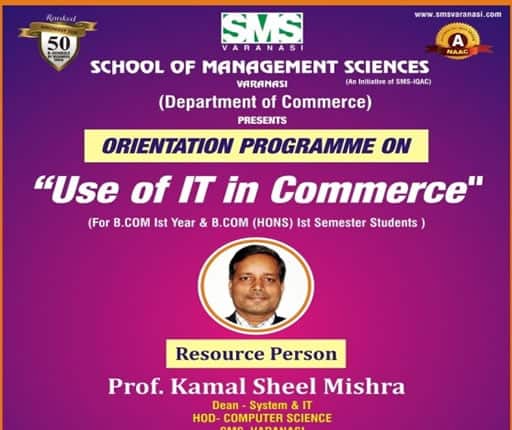 Orinetation Programme on Use of IT in Commerce(B.COM 1st Year & B.Com (Hons) 1st Semester Students)
Department of Commerce, SMS, Varanasi conducted an orientation program for B.com(Hons.) 1st sem. Students and B.com 1st Year students on the sixth and final theme "Use of IT in commerce" on Saturday, 31st October 2020. The main keynote speaker Prof. Kamal Sheel Mishra, Dean- System & IT, HOD (Computer Science), SMS, Varanasi in his impeccable deliberation made students aware of various dimensions of the theme. In a nutshell, Sir's superb speech inculcated novice participants about how to make use of dynamic technology in the commerce domain.
The complete session including the question and answer session was very well coordinated by Mrs. Anju Singh, Assistant Professor, SMS Varanasi. Finally, the session ended with an enthralling vote of thanks done by Mrs. Anju Singh, Assistant Professor, SMS Varanasi. She managed the event in the best entirety. Special thanks to our Veteran Prof. (Dr.) Rajkumar Singh Dean(R&D), HOD (Commerce), Respected B.com (Hons.) Coordinator Mr. Atish Khadse, Associate Professor, SMS, Varanasi and Respected B.com Coordinator Dr. Shishir Gujrati, SMS, Varanasi as well as Respected B.com Co-coordinator Mr. Purnendu Patra, SMS, Varanasi & Dynamic B.com(Hons.) Co-coordinator Mr. Aviral Mishra, SMS, Varanasi for drafting as well as shaping this event. Last but not the least, humongous thanks to the entire commerce faculty stream for their unbiased back-end support.
---