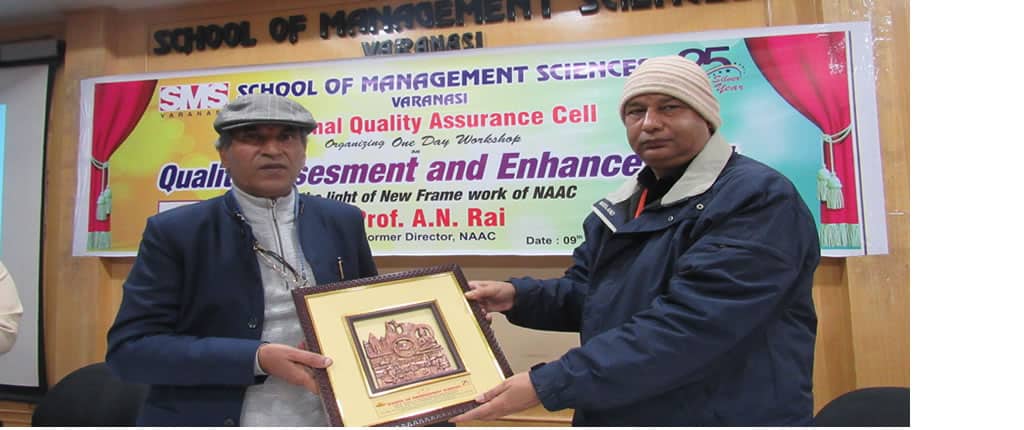 Workshop Quality Assessment & Enhancement (In New framework of NAAC)
SMS-IQAC Varanasi organised one day workshop on Quality Assessment & Enhancement;  In New framework of NAAC. The key resource person for this workshop was Prof A.N. Rai, Professor of biochemistry at the North Eastern Hill University, Shillong, India. He had also served as Vice Chancellor of Mizoram University and North Eastern Hill University. Between 2013 and 2015 he was Director of the National Assessment and Accreditation Council (NAAC) of India. Prof P. N. Jha Director of SMS Varanasi welcomed the resource person and threw light on current scenario prevailing in the education sector in our country, and neccessary steps been taken to improve efficiency and effectiveness of education institutions.
Prof Rai discussed in detail regarding new pedagogy been used for accreditations of education institutions. He also enlightened us with the number of Universities and Colleges been 1015 and 43000 in number, but only 300 universities and 8000 colleges has been accreditated till date, which shows that still lot more has to be done for improving the quality of universities and colleges in our country. Further he stated four important point which should be taken in consideration for improving quality of education sysytem; first, quality education should be given at affordable cost, where he said that higher education should not be imparted free of cost rather it should be provided at reasonable cost to students. Second, Peaceful and academic ambience should prevail in the education campus, where students should be given freedom to complaint regarding academic related flaws of university, but for non-academic related protest should be done outside the campus. Third, Government should fund to only those education instituion which are accredited, and fourth,   there should be no difference been made as private versus public education institutions, all the institution should be regarding as public education institution irrespective of whether it has been incorporated by government or not.
Vote of thanks been given by SMS-IQAC coordinator Dr. Pallavi Pathak. This session was coordinated by Mr Veeresh Tripathi, SMS Varanasi.
---