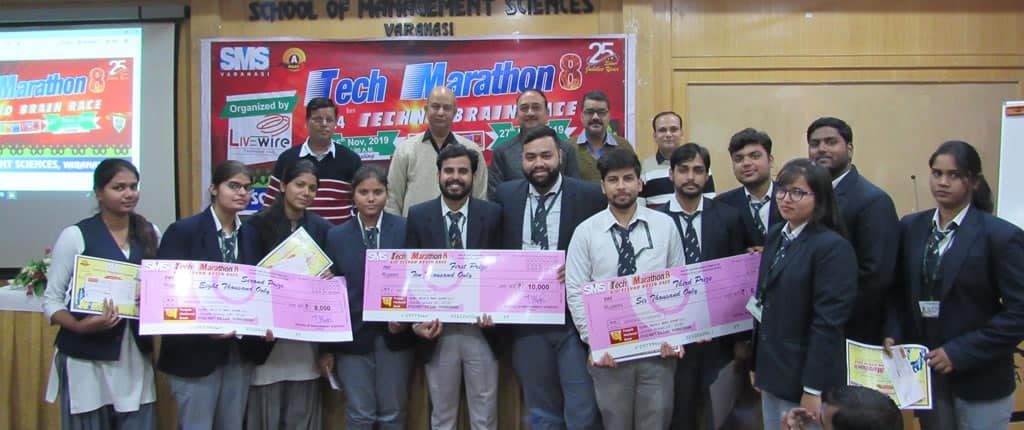 TECH MARATHON: A 24hrs Techno Brain Race-8
TECH MARATHON: A 24hrs Techno Brain Race-8 (1100 Hrs 26.11.2019 to 1100 Hrs. 27.11.2019)
An integral part of professional education, a recreation based competition 'Tech Marathon', organized for MCA students ended after continuous 24-hours, run at the Khushipur campus of School of Management Sciences (SMS) Varanasi. 24 hours Techno Brain Race' started with the blessings of Director Prof. P. N. Jha and Registrar Mr. Sanjay Gupta at 1100 Hrs on 26th November 2019. Topic of this 24 Hrs race was announced by the college MCA Alumni Mr. Ashutosh Srivastava, Tech Lead (Android wing), MediaAgility, Pune as "E-commerce Android App".
Features of these apps were explained by Mr. Ashutosh Srivastava, Tech Lead, MediaAgility. Inauguration of the event was coordinated by Mr. K.S. Mishra and Mr. S.S. Srivastava and Mr. Ram Gopal Gupta.
Mr. Pradeep Kumar, Mr. Debprio Banerjee, Mr. Sushil Singh, Mr. K.N. Chaubey and the entire faculty ensured the smooth conduction of competition and encouraged the participants.
The key features of this event were:
Event Objective: Event will make the participants to work in team, and deliver the result in time bound conditions and cop-up with the stressful environment
Problem Statement: Teams are required to design an Ecommerce Android App for online shopping which is supposed to have below primary functionality
Step 1- Login Page
Login page will accept some credential to open admin panel and customer facing interface of the app, where the admin panel and customer interface will contain below listed functionality.
Step 2 - Design Admin Panel
Add Categories i.e, Kids Wear, Men Wear, Electronics etc.

Add Child Categories : ie, Casual, Bottom Wear, Jeans, etc

Add Products i.e, Spykar Denim etc
Flow Example: Electronics-> (Mobiles, Laptops) -> (Apple, Samsung) -> (Iphone 6S, Galaxy)
Step 3 - Design Customer Facing Interface
Show list of categories and when user will perform any action on category, sub category will be shown

The same sub category will be shown unless sub category is null,

Once the sub category is null show user list of product under that category.
Step 4 -Export and import facility
Export adds the data from database in the JSON format and load data from JSON into another app.
 Duration: Event started at 1100 Hrs on 26th November, 2019 and was operational till 1100 Hrs, 27th November, 2019.
Product Development: Android App  was developed during the event.
Restrictions: No restrictions, full freedom
Evaluation was done at 11.00 AM on 27th November 2019.
When the evaluation was over, the result was announced and below is the list of winning teams from MCA 5th Sem.
POSITION
NAME
FIRST

PRIYA PRIYDARSHINI

RAVI KUMAR

RISHABH SINGH

SHIVAM GUPTA

SECOND

AKANKSHA PANDEY

KHUSHBU KUMARI

POOJA YADAV

PUJA KUMARI YADAV

THIRD

ABHISHEK GUPTA

AMAN SINGH

DEVESH OJHA

SWATI GIRI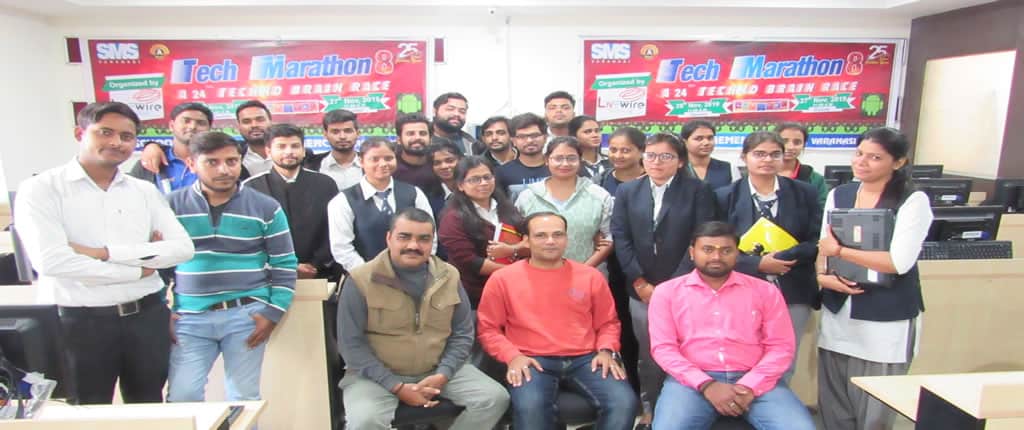 ---