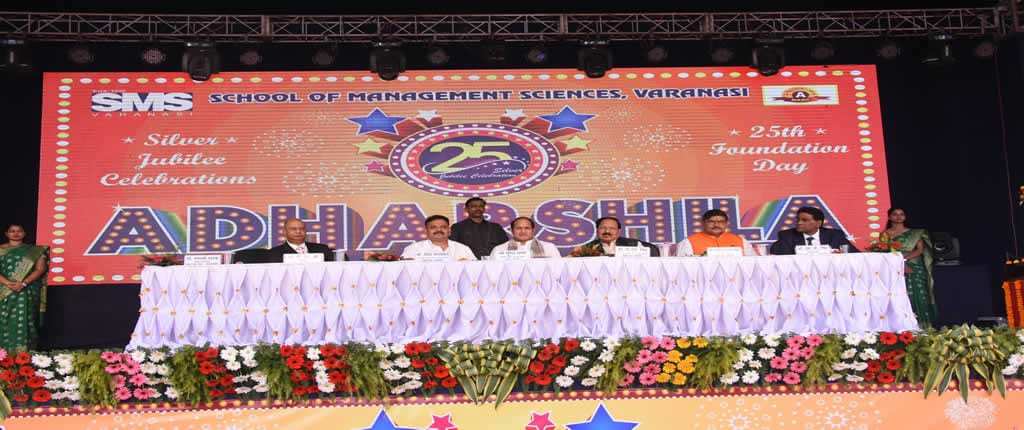 25th Foundation day "Adharshila" celebrated at SMS Varanasi
School of Management Sciences (SMS), Varanasi completed twenty-five years of its establishment. On this prestigious occasion, foundation day Silver Jubile "Adharshila" was celebrated with full fervor and exuberance. SMS is accredited with 'A' grade by NAAC. It is among the India's top 50 Best Business Schools.

Inaugurating the foundation day celebrations, the Chief Guest Shri Suresh Rana (Cabinet Minister U.P. Govt.) said that many talented personalities that are adding new dimensions to our society are Alumni of SMS Varanasi. He further added that he is very confident that one day SMS will be one of the most premier management institute of the nation and will be instrumental in making India a "Vishwa Guru". Mr. Suresh Rana called on the students to learn lessons of patriotism and nationalism from the life of martyrs Shaheed Bhagat Singh and Ram Prasad Bismil. The Minister was of the view that SMS is not only providing Job-Oriented Education but also making Entrepreneurs who subsequently will provide employment to many. Mr. Suresh Rana Ji said that the best role model of management in contemporary India is our revered Prime Minister and Member of Parliament Varanasi, Shri Narendra Modi Ji.

Mr. Suresh Rana Ji ended his deliberation on a poetic note imbibing high spirits among the students.

[vc_row][vc_column width="2/3"][vc_single_image image="19890" img_size="full" alignment="center"]

The guest of honor, Prof. T.N Singh, Vice-chancellor, MGKVP, Varanasi expressing his delight on successful completion of institute's 25 years said that because many courses of the institute are affiliated to his University; therefore he is emotionally attached to SMS. Limitations of resources were never an obstacle for SMS to reach the heights of success and glory. SMS has qualified all the parameters of quality education and has been able to provide nearly 100% placement. He further added that in this competitive world not only degree but skill, competence and knowledge development are needed to meet on challenges of the future.

 The MLA from Rohania, Shri Surendra Narayan Singh, expressing delight on completion of 25 years of the Institute said that the discipline and system adopted to organize this mega event is a testimony of the quality of the Institute. Shri Singh asked the students to become a better human being and serve the motherland with full passion and commitment.

Welcoming the guests, the director of the institute, Prof. P.N Jha called the foundation day as a historic moment for all the members of SMS family. Thanking all the stakeholders of the institute, Prof. Jha said that their hard work and commitment was the prime reason that has made the institute an important landmark in the field of management studies. Established in 1995, SMS has gained new heights and has never looked back. Prof. Jha paying tributes to management stalwart Late Prof. Mukund Lal, the Founder Director of SMS said that the vision of Prof. Lal has ultimately paid rich dividends in the form of the prestige that SMS has lately acquired.

Thereafter, VC of MGKVP, Prof. T.N Singh felicitated those SMS students who bagged University ranks in their exams. The awardees were B.Com- Aditya Raj Singh (first rank), BBA- Akansha Patel (second rank), Khushboo Yadav (fourth rank), Divya Upadhyay (fifth rank), Harshita Banka (tenth rank), BCA- Vishal Gupta (second rank),  Anjali Srivastava (sixth rank), Akanshka Srivastava (seventh rank), Ashutosh Kumar Mishra (Eighth rank).

[vc_row][vc_column width="2/3"][vc_single_image image="19892" img_size="full" alignment="center"]

Inaugural session was conducted by convener 'Adharshila' Dr. Pallavi Pathak (Associate Professor) and vote of thanks was also proposed by her. Executive Secretary SMS, Dr. M.P Singh felicitated the guests by presenting them mementos.

Inaugural session included many cultural events and inter-institute participation. It was followed by solo song, solo dance, business quiz, mock parliament, Poster and ad making, Rangoli and antakshari. More than 20 institutes participated in the event from Varanasi and other districts. Some of them other than SMS Varanasi and Lucknow were FMS-BHU, Faculty of Commerce-BHU, MPMIR-BHU, FMT-HCPG College, IMS-SHEPA, Vasantha College for Women, Sunbeam College for Women, Varuna and Bhagwanpur, Ashoka Institute of Technology and Management, SAMS, Ambition Institute of Technology, Raj School of Management Sciences, Kashi IT, ABR PG college, Sonebhadra, Teri PG college, Ghazipur, Arya Mahila PG college, Jeevandeep Institute, SHEAT college, Ghashyam Binani, Mirzapur and Rajiv Gandhi South campus, Barkachha, BHU and VVS Purvanchal University, Jaunpur.

SMS Varanasi honoured its 18 employees for rendering their uninterrupted services for 20, 15 and 10 years to the Institution. For providing un-interrupted session for 20 years, the employees who were felicitated include the Prof Computer Sciences – Mr. Kamal Sheel Mishra, Manager IT- Mr. Pradeep Kumar, Senior Office Executive- Mr. Iqbal Khan. For completing fifteen years at SMS, Senior Programmer- Mr. Sushil K singh, Electrical Engineer- Mr. R.B Verma, Accountant-Mr DHruv Prakash Srivastava, Electrical Supervisor- Mr.Ajay Kumar Srivastava, Employee- Mr Rajesh K Sharma were honoured. For rendering 10 years of continuous service to SMS Dr. Avinash Chandra Supkar (Associate Professor), Mr Atish Khadse (Associate Professor) and Mr Sunit Kumar Mishra (Assistant Professor), Account officer-Mr Anand Keshari, Sight Supervisor- Mr. Shashibhushan Singh, Security Supervisor-Mr. Abhay Narain Singh, Supervisor- Mr. Nirmal Kumar Singh, Employee- Sanjay Kumar Singh,  Abhay Kumar yadav, Shailendra Kumar Singh  were honoured. Felicitation of the employees was done by the chairman of the SMS society Shri S.K Singh.

[vc_row][vc_column width="2/3"][vc_single_image image="19894" img_size="full" alignment="center"]

The main highlight of the musical night was famous poet, singer, satirist and writer-Dr. Kumar Viswas. Kumar entertained audience with his poems and songs. His acumen in impressing audience was beyond excellence. Audience fully enjoyed his prose and songs marinated with wit and cheer. Kumar's mesmerizing delivery of poems that cater to the senses of youngsters was a treat to experience.

The programme had the graceful presence of Executive Secretary of the Institute, Dr. M.P Singh, Chairman Shri S.K. Singh, Director, Prof. P.N Jha and Registrar Mr. Sanjay Gupta.
---