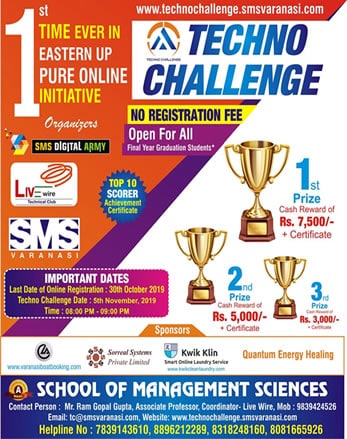 TECHNO CHALLENGE-2019
School of Management Sciences, Varanasi always at the forefront in taking innovative stepstowards the growth of the nation especially in eastern Uttar Pradesh. SMS Varanasi strongly believe on the statement of our Honourable Prime Minister of India, Mr. Narendra Modi Youth of India Can Take the Nation to Greater Height". To realize this mission Livewire- Technical club, SMS,varanasi is organizing TECHNo CHALLENGE- 2019 which is an entirely online event; from registration to result announcement. The objective of this event is to provide young technical brains a common platform. The aim is to give them a competitive environment and a chance to-demonstrate their competency. The details ofthe event are
Who can Participate?
Final yeargraduation students (BCA/B.Sc.-IT/B.Sc.-CS/B.Tech/ other graduate courses having computer applicationas a subject) from any institutionaffiliated to any universityin India.
Participants should have knowledge of programming languages.
Participant must have their valid Institute ID proof/last semesterpassing marks sheet etc.
Registration
Online through Techno Challenge website only
(http://
technochallenge.smsvaranasi.com)
Techno Challenge Format
An online technical quiz of 50 Multiple Choice Questionsbased on programming skills (C/C++/Java), SQL Queries, number systems and new technologicalconcepts.
Each question will carry2 marks.
For every wrong answer 0.5 marks will be deducted.
Registered participants will login to the TECHNO CHALLENGEweb portal at the announced date & time.
Techno Challenge quiz will start automatically at announced date & time after login.
The login credentials will send to registered participants email and mobile number.
Duration of the quiz will be 60 minutes.
Once the quiz started participants ensure that quiz window should not close in any case otherwise they cannot login again to start quiz.
Participants can submitanswers before the allotted time otherwise it will be automatically submitted at the end of allotted time
Impotant Dates and Time
Online registration open: 19thSeptember, 2019
Last date of registration: 30thOctober, 2019
Online Quiz Date & Time: 08:00 PM 09:00 PM 5thNovember, 2019
Duration: 60 Minutes
Result Announcement: 07:00 PM 7thNovember, 2019
Venue and Requirement of Techno Challenge Event
You can participate in TECHNO CHALLENGEEvent from your home/ cyber cafe.
System requirement includea laptop/ desktop with Google chrome web browser and internet connection.
Top-10 Techno Challenge Selection Process
Top-10 scorers including Winner, Runner-upand Second Runner-up.
If twoor more participants score the same then time taken to submit the Techno Challenge Quizwill be considered for merit list.
Top-10 will produce Identity proof of their candidature as final year student of the course, institute/ university. Failing which his/ hercandidature will betreatedas invalid and next highest scorer will get chance to come in Top-10.
Final decision is reserved withtheorganizers.
Registration Fees
No registration fee to participate in TECHNO CHALLENGE Event
Prizes and Certificate:
TheTop-10 scorers will get Certificate of Achievement& consolation prize.
Cash prize for:
Winner:Rs. 7,500/-
Runner-up:Rs 5,000/-
Second Runner-up:Rs 3,000/-
Participants who will score >=40% will get E-Certificate of Participation
For More Detail Visit:
http:// technochallenge.smsvaranasi.com
---