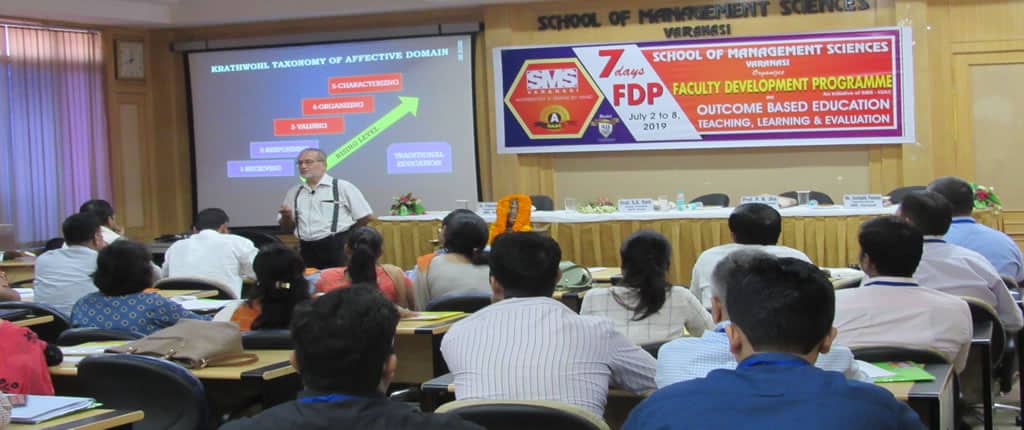 7 Days FDP on 'Outcome Based Education' started at SMS Varanasi
School of Management Sciences, An Initiative of SMS IQAC Varanasi organized seven-day (July 02-08, 2019) Faculty Development Programme on Outcome Based Education: Teaching, Learning & Evaluation. The first day began with an eminent resource person, Prof. S.K. Soni Former Professor NITTTR Bhopal.
Prof. S.K. Soni focused on various aspects of teaching, he said best way to learn is learning by doing. Gone are the days when only lecture used to be the only means to impart education to students. Today's lecture finds very minimal place in teaching pedagogy; tutorial, case studies, presentation, projects, etc. make students learn more in less span of time. It is the need of the hour to have a co-relation between teaching and learning, he added.
Earlier Prof. P. N. Jha, Director, SMS, Varanasi presented his welcome address to the guest and all the participants coming from all over India and threw light on the various achievements which have been made by SMS Varanasi in previous years. He also said that it is a matter of great-pleasure that this kind of FDP has been organized to cater to the needs and changes that students and educational pedagogy face in contemporary era. He also emphasised on the importance of new education policy and Education model 4.0.
Programme Convener Mr. Amitabh Pandey Associate Professor SMS Varanasi enlightened the participants with all the details of seven-day FDP.
At the end of inaugural session, vote of thanks was proposed by Programme Coordinator Dr. Pallavi Pathak, Associate Professor, SMS Varanasi. She thanked all faculty member, staff and management for making this programme possible. This session was conducted by Ms. Anamika Patel, Assistant Professor, SMS, Varanasi.
---