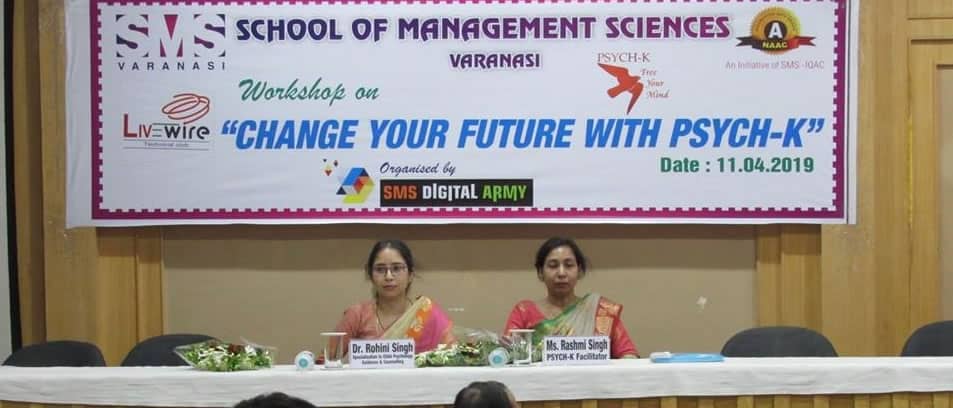 WORKSHOP ON CHANGE YOUR FUTURE WITH PSYCH-K
WORKSHOP ON CHANGE YOUR FUTURE WITH PSYCH-K
SMS DIGITAL ARMY under the banner of LiveWire- Technical Club at SMS Varanasi organised workshop on Change Your Future with Psych-k. This workshop was organised for MCA students with aim to give the right direction to their actions, reactions and thoughts so that students can attain to their predetermined goal. The key resource person for this workshop were Dr. Rohini Singh Specialization in Child Psychology Guidance & Counselling, and Ms. Rashmi Singh PSYCH-K Facilitator, Psych-K.
Resource person discussed and imparted students that Psych-K is a self-help tool developed by Robert M. Williams in 1988. By using it one can change his/her feelings, behavior and the way they interact with life. We use some specific body postures and movement to bring out the change in people like few minutes exercise.
Our belief creates our reality. These beliefs are mainly subconscious and reason for the long term Programming and its also greatly influence human behavior. It require a whole-brain state which is ideal for reprogramming the mind with a new belief, this in turn reduces unwanted stress, thus helping us to achieve new goals and even face new challenges in life with greater confidence and achieve more success in Life.
For example, if there is any health-related issues, while balancing all the inner stress and conflicts that may be supporting the presence of that particular disease will be identified and helped to be released. Once the person is free from the conflict and stress that was supporting the disease, the symptoms will begin to lessen and will appropriate steps the body will be completely healed.
---