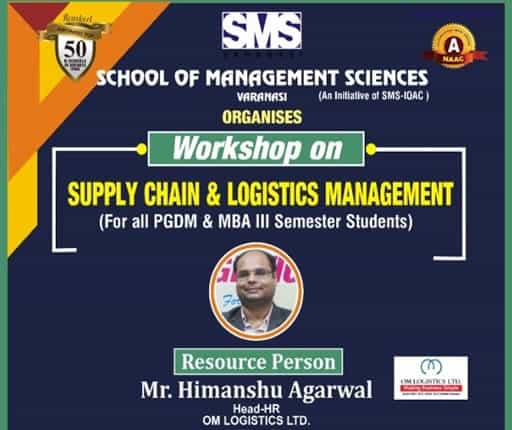 Online Workshop on Supply Chain & Logistics Management
School of Management Sciences, Varanasi organised an Online Workshop under its IQAC Initiative on Supply Chain & Logistics Management for its PGDM & MBA Third Semester Students on Monday, 12/10/20 in order to provide them an exposure towards the existing Supply Chain Requirements & Challenges in the Logistics Industry as a whole. The Resource Person of the Workshop, Mr.Himanshu Agarwal, Head-HR, OM Logistics Ltd.
During his deliberation, Mr.Agarwal discussed about the various day-to-day challenges faced by employees in the logistics sector & how students can make themselves industry ready, especially with reference to Logistics Industry.
All the sessions of the Workshop were jointly coordinated by Ms. Kajal Jaiswal & Ms. Shyama Maqsood, Final Year Students from PGDM & MBA. The Question & Answer Session was taken-up by Ms.Kajal Jaiswal and the Vote of Thanks was proposed by Ms.Shyama Maqsood on behalf of all the Students from PGDM & MBA III Semester.
The Workshop Concluded with final remarks from Mr. D.K.Tripathi, GM-Corporate Affairs & the Convener of the Workshop, who extended gratitude on behalf of the entire SMS Family towards our Corporate Guest, Mr.Himanshu Agarwal.
---