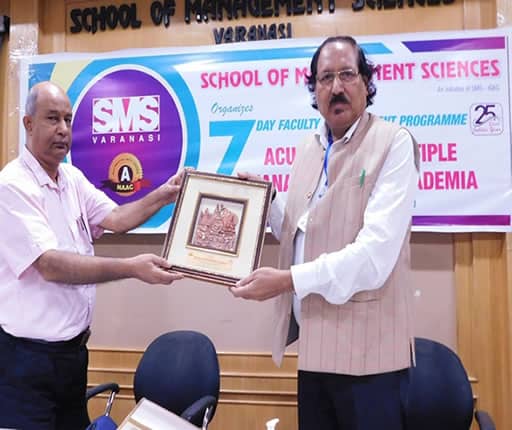 7 Day Faculty Development Programme on Acumen for Multiple Management in Academia
School of Management Sciences, An Initiative of SMS IQAC Varanasi organized seven-day (October 03-09, 2020) Faculty Development Programme on Acumen For Multiple Management in Academia. The inaugural session of the first day began with the deliberation with the keynote on the theme 'Compiling Research Project' by the Chief Guest of the Programme Honourable Vice-Chancellor of Mahatma Gandhi Kashi Vidyapith   Varanasi, Prof. T.N. Singh who was also the Resource Person of the First Session of the day.
Prof. Singh's deliberation began with an emphasis on the importance of a teacher in today's time. Prof. Singh said that a teacher should not only be talented but excellent, accumulative, exclusive, helpful and motivational. He further stressed that research is a continuous and dynamic process. The whole purpose of organising FDP is to recharge and reactivate the academic scholars. Prof. Singh's discoursed was both intensive and extensive in nature. All the nuances of drafting research project were elaborately explained by the vice-chancellor.
According to him in any project proposal, the objectives should be laid out clearly, precisely and lucidly. Also, the methodology while drafting the proposal should be carefully thought and well documented. Selection of data in methodology is very important. Wrong data will lead to faulty findings therefore validation of data is required. Citing many anecdotes Prof. Singh's said that objectives methodology, deliverables and funding are the key elements of any project proposal. Prof. Singh's deliberation reflected a deep insight in the domain of research making the audience spellbound.
Earlier the programme started with the felicitation of the Chief guest by Director of the Institute Prof. P.N. Jha on behalf of the entire SMS fraternity. Highlighting on the theme of the programme Prof. Jha said that the teaching profession is a sacred intellectual pursuit and the way the cognitive landscape is changing demands more skilled teachers and academic scholars. The convener of the programme Dr. Amitabh Pandey Associate Professor SMS Varanasi briefly explained the details of seven days FDP.
At the end of the inaugural session, the vote of thanks was proposed by Prof. Sandeep Singh, HOD-Management, Dean-DSA, SMS Varanasi. The chief guest Prof. T. N. Singh was felicitated by Pro. P.N. Jha presenting a memento. The programme was successfully conducted by Dr. Purnendu Kumar Patra Assistant Professor SMS Varanasi. The occasion was graced by the executive secretary   Dr. M.P. Singh and registrar of the institute Shri Sanjay Gupta.
---