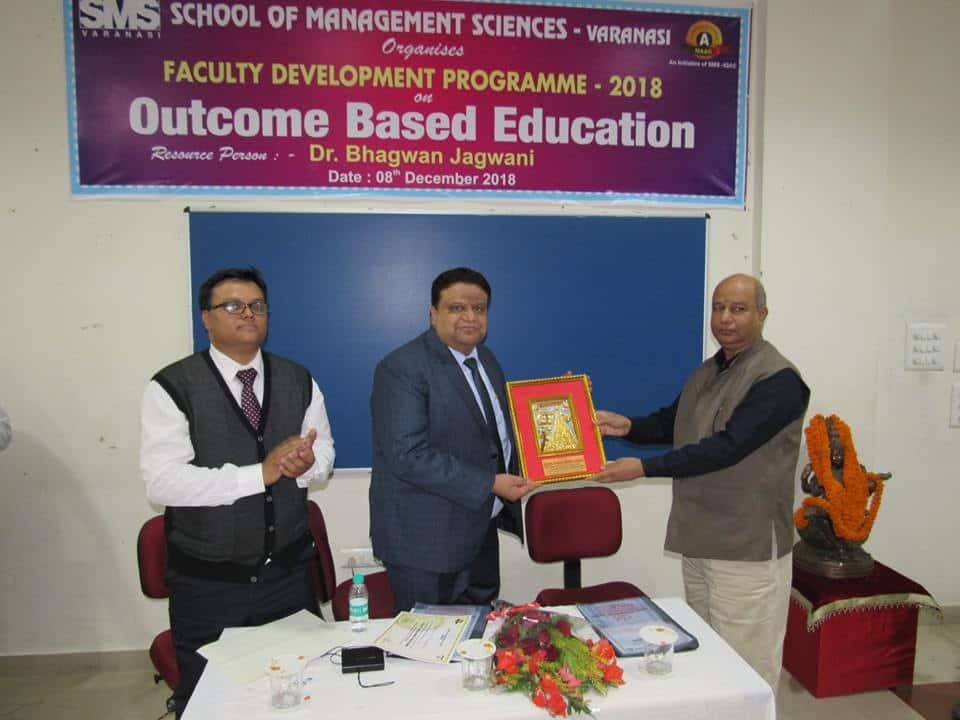 FDP on Outcome Based Education held at SMS Varanasi | 2018
School of Management Sciences, Varanasi organized one day Faculty development program on "Outcome Based Education" on 8th Dec, 2018. The key resource person was Dr. Bhagwan Jagwani, Professor, Dr. Gaur Hari Singhania Institute of Management & Research, Kanpur.
Dr. Bhagwan Jagwani elucidated about "Outcome Based Education" and explained that this is an approach towards an education in which decision about curriculum are driven by learning outcome that student should display at the end of the program. Dr Jagwani also helped us in calculation of achievement of mission in absolute form. He also discussed about today's generation who are very much active with LOTS (low order thinking skill) skills but lacking in HOTS (high order thinking skills) skills. Hence more focused should be given toward Knowledge, skill and attitude for the full development of student potential to succeed in the market.
This workshop was designed to help participants to understand, how Outcomes Based Education can be designed, implemented and used to work as an essential aid in not only ensuring that students undertake deep learning and display desired outcomes but also constructively align the assessment and evaluation techniques to match such learning outcomes. Though the use of Outcomes-based Education in higher education is comparatively recent in the Indian subcontinent, its significance in higher education learning and teaching has increased in response to the pressing requirement of educational institutions to seek accreditation from national bodies like the National Board of Accreditation (NBA), the National Assessment and Accreditation Council (NAAC), and even International bodies like the Association of MBAs (AMBA), the Association to Advance Collegiate Schools of Business (AACSB), etc.
Workshop Objectives
The workshop aimed to help participants understand the following –
· Concept of Outcome-Based Education (OBE)
· Key Constituents of OBE
· Different Levels of Learning Outcomes
· Assessment & Evaluation of Learning Outcomes
· Calculation of attainment levels of Learning outcomes
Workshop Learning Outcomes After the end of the workshop, participants were –
· Revisit the 'Vision' and 'Mission' statements of the institution and departments in the light of Outcome-based Education.
· Frame 'Programme Educational Objectives' (PEOs) in alignment to the Vision and Mission statements of the institution.
· Align 'Programme Outcomes' (POs) and 'Programme Specific Outcomes' (PSOs) with the PEOs.
· Frame 'Course Outcomes' (COs) and align it with the POs.
· Design 'Assessment' and 'Evaluation' tools and techniques for finding out the direct and indirect attainment levels of learning outcomes.
· Calculate the overall attainment levels (in percentage) of COs, POs, PSOs, PEOs and even Mission!
---