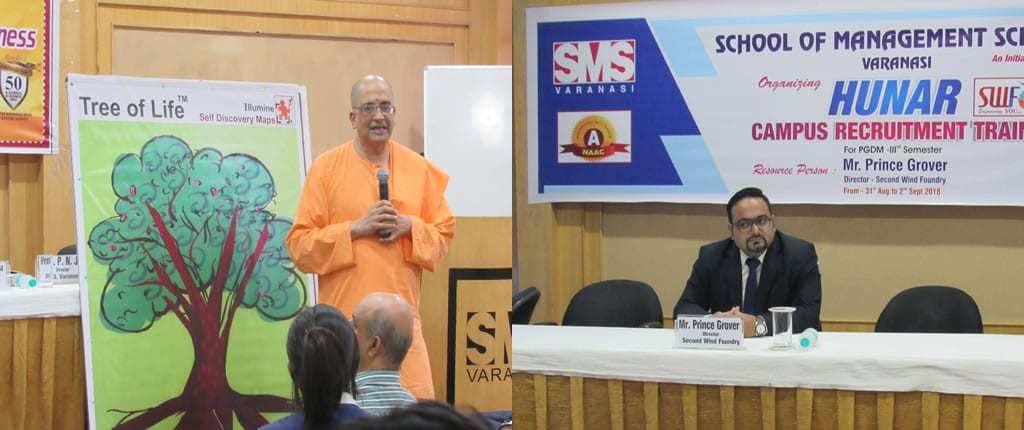 Workshop Series held at SMS Varanasi
SMS Varanasi organized three days workshop on "Soft Skills for Future Managers" for First Semester PGDM students from Aug 28 to 30, 2018. Prof M.S. Pandey Professor Department of English, Banaras Hindu University was distinguished speaker, who shared the importance of soft skill for personal and professional growth with the PGDM first semester student. He addressed to PGDM students that as a manager, it has never been enough to be technically adept. You have to excel at soft skills as well. Soft skills are the personality traits, attitudes, habits, and behaviors you display when working with others. While good soft skills are also important for employees, they are critical for managers. Event was organized in presence of PGDM Coordinator Mr. Rishi Raman Singh.
SMS Varanasi also organized one day workshop on "Spirituality: Work Efficiency, Decision Making & Happiness" for the PGDM, MCA and BBA student on August 29, 2018. This session was engaged by Swami Varishthanand Ji, Shri Ramakrishna Mission, Varanasi. He enlightened the students about self management and added that management is a science which is practiced from thousand years. Swami Ji deliberated that we spend less time on ourselves and are more interested in influencing others and also gave tips on coping up with anxiety.
Another workshop took place on topic "HUNAR" Campus Recruitment Training" for PGDM third semester students. Event was organized in association with Second Wind Foundry, Raipur Chhattisgarh India. Second Wind Foundry is one among the leading Training providing organizations. Mr. Price Grover, Director of Second Wind Foundry conducted the training. During the inaugural session of workshop, Prof. P. N. Jha, Director of SMS Varanasi motivated the students for attaining best input from the workshop. Workshop mainly focused on group discussion, interview and visualizing long term goals of life, and also made the students to work upon their communication and aptitude related domains. Several icebreaking games and exercises helped the students to improve their personalities. Workshop started on 30th August and ended on 01st September, 2018. Event was organized in presence of PGDM Coordinator Mr. Rishi Raman Singh.
On 31st August 2018, as a part of Activity Day, SMS Varanasi organized a talent hunt event conducted by 93.5 Red FM and Amar Ujala "College Ke Tashanbaaz" for categories like dancing, singing, acting, music band, etc. Through this activity the students got an opportunity to rock the event with RED FM team. As the name says COLLEGE KE TASHANBAAZ the TASHANBAAZ of our college performed their TASHAN. Sajal and Sharad were selected in
---