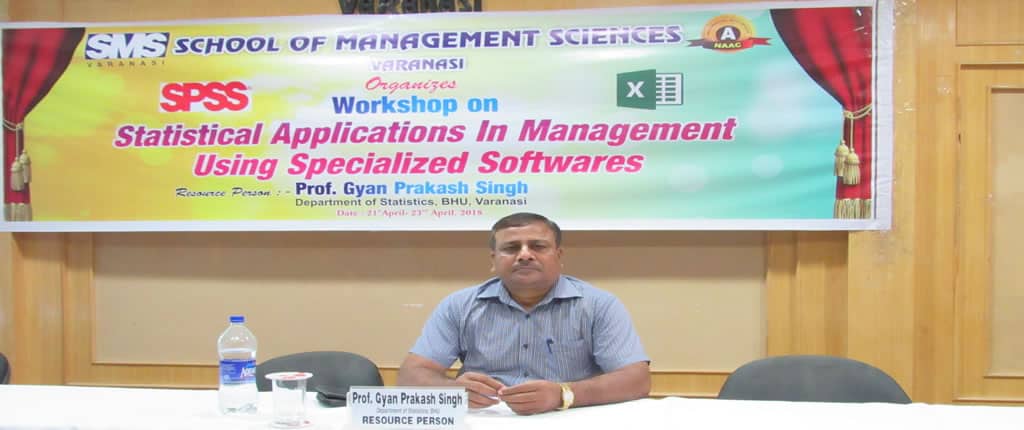 Workshop on Statistical Applications in Management Using Specialized Softwares
School of Management Sciences, Varanasi organized a three days workshop on Statistical Applications in Management Using Specialized Softwares during 21st 23rd April, 2018 for the students of MBA IInd Semester. The workshop was aimed at building the fundamental understanding of research methods and enhancing the analytical skills of students. Conducted by Prof. G.P. Singh, Department of Statistics, Banaras Hindu University, Varanasi, the workshop trained the students in various statistical methods and data analysis techniques such as regression, correlation, measures of central tendency, measures of dispersion, etc. through hands on experience of solving statistical problems using specialized statistical packages MS Excel and SPSS.
Day one of the workshop began with deliberations by Prof. G.P. Singh where he introduced basics of statistics, its application and use in day to day business practices. Various concepts like statistical measurements and scaling, sampling distributions, hypothesis testing, measures of central tendency, etc. were discussed at length. On day two of the workshop, Prof. G.P. Singh continued with his deliberation on various statistical measures and their applications for solving problems pertaining to business decision making which was followed by overview of basic functions of MS Excel and SPSS. The third and last day of the workshop witnessed a detailed explanation of correlation and regression analyses and their importance with respect to business research followed by problem solving using MS Excel and SPSS. The session ended with Prof. Singh addressing students queries regarding the concepts and techniques he dealt with during three days of the workshop. Post workshop, the Registrar of the institute Shri Sanjay Gupta presented a memento to Prof. G.P. Singh, as a token of remembrance. In his vote of thanks, Shri Kartikeya Singh, Assistant Professor and Coordinator MBA programme voiced a profound sense of gratitude towards Prof. Singh and expressed hopes that the learning imparted by this workshop would enable the students to carry out quality research work during the preparation of their research projects. The workshop was coordinated by Shri Saurabh Kumar Srivastava, Assistant Professor, SMS Varanasi.
---