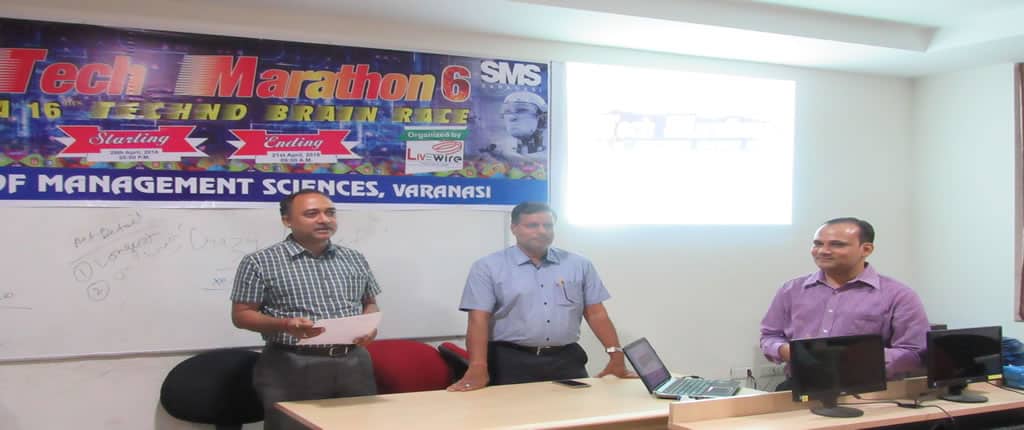 TECH MARATHON-2018- A 16hrs Techno Brain Race-6
An integral part of professional education, a simulation based competition Tech Marathon, organized by LiveWire- Technical Club for MCA students & WebDX Event winners ended after continuous 16-hour run at the Khushipur campus of School of Management Sciences (SMS) Varanasi. 16 hours Techno Brain Race started with the blessings of Director Prof. P. N. Jha and Registrar Shri Sanjay Gupta at 17:00 Hrs on 20th April 2018. Topic of this 16 Hrs race was announced by the Director as e-KSS (Electronic-Knowledge Sharing System).
Features of these apps were explained by Mr. Ram Gopal Gupta. Inauguration of the event was coordinated by Prof. K.S. Mishra and Mr. S.S. Srivastava along with Mr. Ram Gopal Gupta.
Mr. Pradeep Kumar, Mr. Debprio Banerjee, Mr. Sushil Singh, Mr. K.N. Chaubey and all the faculty and Computer lab staff ensured the smooth conduction of competition and encouraged the participants.
The key features of this event were:
Event Organizer: LiveWire-Technical Club, SMS Varansasi
Event Objective: To make the participants to work in team, and deliver the result in time bound conditions and cop-up with the stressful environment.
Problem Statement: Each organization (College, MNCs etc.) has employees with expertise in different skill sets. Here we expect a Web based system prototype through which employees can share their knowledge/ skills with others in the organization. This sharing of information can be in the form of text/ file upload (doc/ ppt/ pdf) only.
Teams were needed to develop an eKSS Web based system prototype as a solution of this. Here we have considered that organization is a college.
This e-KSS had three user levels:
1. Admin
2. Faculty
3. Students
Level-1
Admin Role:
a. Faculty Management: Add, enable/ disable, edit, delete Faculty
Faculty data will contain name, designation, email (work as userid), password, mobile, photo.
b. Skill Topic Management: Add, enable/ disable, edit, delete Skill Topics (example: Financial Accounting, C Programming etc.)
c. Knowledge sharing Analytics: Who/ when/ where (topic)/ how-many knowledge files shared/posted. It means who have uploaded/ posted knowledge in a particular topics, when and how many. Can also see the statistical report of number of visits/ download of an uploaded file/ post.
Level- 2
Faculty Role:
a. Faculties, who are enrolled into the system by Lavel-1 (Admin) user, can share their knowledge in the form of text entered into the textarea or can upload already prepare files. File format is restricted to .doc/ .docx/ .ppt/ .pptx/ .pdf into eKSS.
b. Before the posting/ uploading of above knowledge files, faculty must select the related topics which were added by Level-1 (Admin) user.
c. Can do searching of his/her uploaded knowledge using different filters with options edit & delete.
Level -3
Students Role:
Can do the Knowledge searching on the basis of date/ topics/ faculty or mixing all.
Duration: Event started at 17.00 Hrs on 20th April, 2018 and was operational till 09.00 Hrs, 21th April, 2018.
Product Development: Web Application was developed during the event.
Restrictions: No restrictions, full freedom
RESULTS OF TECH MARATHON A 16HRS TECHNO BRAIN RACE-6
This is to inform all the Under Graduate & Post Graduate students that Teams from MCA 4th semester and winners of WebDX event participated in TECH MARATHON AN 16HRS TECHNO BRAIN RACE-6 event started on 20th April 2018 at 05:00 PM and ended on 21st April 2018 at 09:00 AM. The results of this event are:
Position

Team Number

Name

Course & Sem

FIRST

Team 08

SAMARTH SAXENA

BCA-6

RISHABH SINGH

PRIYAM JAISWAL

RAVIKANT PANDEY

SECOND

Team 03

SATYENDRA TIWARI

MCA-4

INDRALOK SINGH

MANEESH YADAV

THIRD

Team 10

ASHUTOSH TIWARI

BCA-6

VIVEK SHARMA

SOMU KUMAR
---