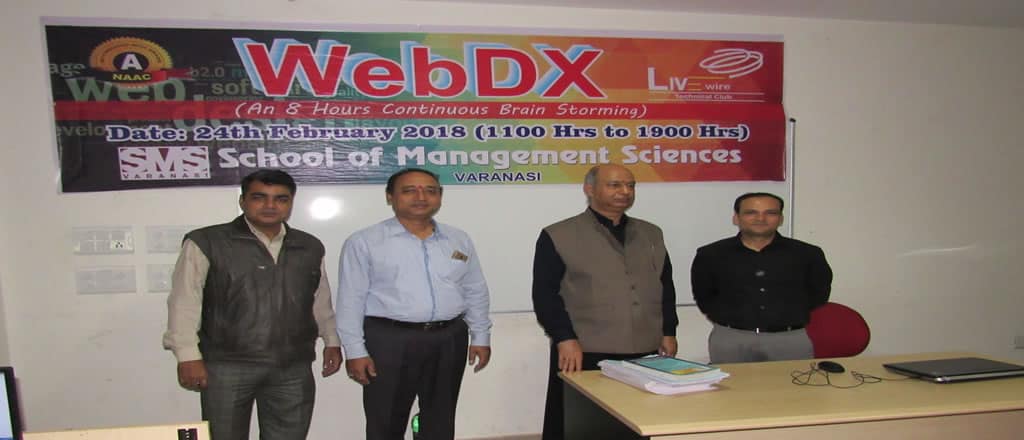 WEBDX- AN 8 HOURS CONTINUOUS BRAIN STORMING COMPETITION HELD AT SMS VARANASI
The LiveWire Club at School of Management Sciences, Varanasi organized WEBDX- AN 8 HOURS CONTINUOUS BRAIN STORMING event for students of BCA 6th Semester on 24th February, 2018. This Event was aimed at developing and enhancing crucial skills and competencies among the undergraduate students such as planning and execution of technology based projects, teamwork and coordination, stress management, handling the work pressure, meeting the deadline, division of work, creativity and innovation. Participants were required to design a web portal for WEBDX event with specific functionalities classified into three levels of static and dynamic designing. 12 teams, consisting of 4 members including the team leader, from BCA 6th semester participated in the event which took place during 11 a.m. to 7 p.m. at the Khushipur campus of SMS Varanasi. The top three teams received certificate of achievement along with cash prize of 6,000/-, 4,000/- and 2,000/- respectively whereas all participants received the certificate of participation. Also, the winner and runner up teams listed below stand to get a chance of participating into upcoming Tech-Marathon to be held in March 2018.
Position
Team Number
Roll Number
Name
FIRST
Team 05
BC/18/77
Samarth Saxena (Team Leader)
BC/18/73
Rishabh Singh
BC/18/60
Priyam Jaiswal
BC/18/67
Ravikant Pandey
SECOND
Team 12
BC/18/23
Ashutosh Tiwari (Team Leader)
BC/18/105
Vivek Sharma
BC/18/30
Divyanshu Bhardwaj
BC/18/87
Somu Kumar
THIRD
Team 08
BC/18/55
Phalguni Moitra (Team Leader)
BC/18/21
Aradhana Gupta
BC/18/09
Akrity Kumari
BC/18/57
Pratibha Patel
The event was organized and coordinated by Shri Ram Gopal Gupta, Associate Professor & Coordinator LiveWire Club and his team.
---