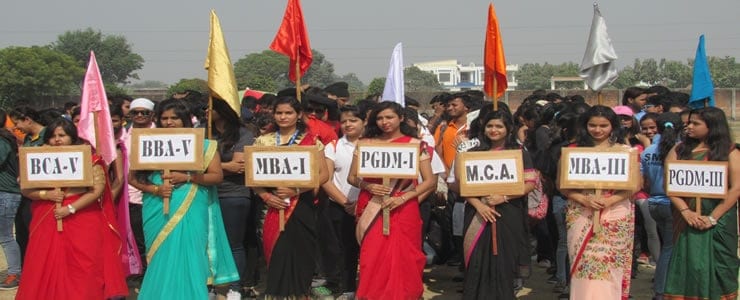 Sports Fest 2017 at SMS Varanasi
School of Management Sciences, Varanasi held three days exciting function to celebrate its Annual Sports Day, SPORT FEST-2017 under the banner of Crest Sports Club. SMS Varanasi students have been fortunate to have auspicious presence and blessings of Lt. Gen. M M Lakhera, Former Governor Mizoram. He appreciated and motivated the students for their zeal and enthusiasm for the event. He appealed to students that games should be played with sportsman spirit irrespective of win or defeat.
Earlier welcoming the chief guest and participants, Prof. P. N. Jha, Director, SMS Varanasi, said that Sports acts as a catalyst in overall development of the students. The Chief Guest declared the meet open by lighting the Sports Torch followed by Oath taking ceremony in which the students solemnly pledged to uphold the spirit of true sportsmanship.
On the occasion Cricket, Volleyball, Badminton, 100 Meter Race, Tug of War, Table Tennis, Carrom, Chess were organized in which students from all the courses participated with great zeal and vigor. Students exhibited their talent and skill along with team spirit in all the dimension of the sport. Students from all the courses an batches including PGDM, MBA, MCA, BBA, BCA, B.Com and BA (Mass Comm) participated in the competition.
Later in the Valedictory session Prof. P. N. Jha appreciated the winners and gave them trophies and certificates. Event has taken place under coordination of Mr. Sunit Kumar Mishra, Assistant Professor, SMS Varanasi with the remarkable support of faculty and staff members. Dr. M. P. Singh (Executive Secretary, SMS Varanasi) appreciated the students and faculty members for their commendable efforts in different games. Inaugural and Valedictory sessions were coordinated by Dr. Pallavi Pathak, Assistant Professor, SMS Varanasi.
Results of various competitive Intra-Institute Sports events are as follows:
Results of Sports Fest 2017

Event

Awards

Course

Badminton (Boys)

Raunak Singh- Winner

BBA 1st

Ashish Tripathi- Runner Up

BCA 3rd

Badminton (Girls)

Simaran Singh- Winner

BBA 5th

Shrishti Soni- Runner Up

BBA 5th

Table Tennis (Boys)

Harsh Singhal- Winner

BBA 3rd

Shubham Sureka- Runner Up

BBA 3rd

Table Tennis (Girls)

Simaran Singh- Winner

BBA 5th

Shristy Srivastava- Runner Up

MBA 3rd

Chess (Boys)

Amit Rai- Winner

MBA 1st

Piyush Pannat- Runner Up

BBA 3rd

Chess (Girls)

Bhawana Jaiswal- Winner

BCA 3rd

Richa Verma- Runner Up

MBA 3rd

Carrom (Boys)

Mohd. Abdul Razzaque- Winner

B.Com 3rd

Kaushabh Jaiswal- Runner Up

MBA 1st

Carrom (Girls)

Simaran Singh- Winner

BBA 5th

Anupama- Runner Up

BBA 5th

100 Meter Race (Boys)

Manmohan Rai- Gold Medal

BBA 1st

Naveen- Silver Medal

MBA 3rd

Maharshi- Bronze Medal

MBA 3rd

100 Meter Race (Boys)

Saumya- Gold Medal

BCA 3rd

Shalini- Silver Medal

MBA 3rd

Aditi- Bronze Medal

B.Com 1st

Cricket (Boys)

Winner

BCA 3rd

Runner Up

B.Com 2nd

Cricket (Girls)

Winner

MBA 3rd

Runner Up

B.Com & BBA

Volleyball (Boys)

Winner

BBA 5th

Runner Up

B.Com 1st

Volleyball (Girls)

Winner

B.Com 3rd

Runner Up

MBA 3rd

Tug of War (Boys)

Winner

B.Com 1st

Runner Up

B.Com 3rd

Tug of War (Girls)

Winner

B.Com 3rd

Runner Up

MBA 3rd
---