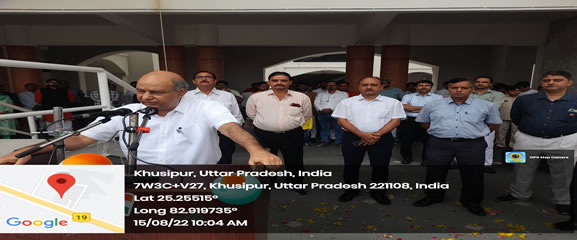 SMS Varanasi celebrated 76th Independence Day
SMS Varanasi celebrated 76th Independence Day at its campus. Independence Day is the festival for the entire India and celebrated to remember its freedom from British rule and its birth as a sovereign nation on 15th August 1947.
Independence Day, on 15th August, 2022, the most pious and auspicious occasion was celebrated by SMS Varanasi with zeal and enthusiasm. After the flag hoisting ceremony, Prof. Jha presented his tribute towards the Indian freedom fighters. He discussed the significance of independence and the importance of equality in our democratic system. He also emphasised the importance of todays youth and pointed out how they have a crucial role to play in India's development and in improving her standing globally. He also commented on Indias economic performance and discussed fluctuations in global and Indian GDP. He also expressed his thankfulness towards Indian defense services for safeguarding Indian boundaries.
Flag hoisting today followed by a cultural program full of patriotic fervor was the culmination of "Azadi Ka Amrit Mahotsav"- celebrating 75 years of Indian independence and her journey on the path of prosperity, development and quest for her rightful place in the league of nations.
---