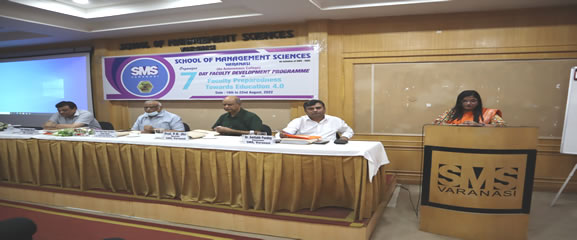 Seven Day Faculty Development Program 2022 @ SMS Varanasi
A seven day Faculty Development Program started at School of Management Sciences, Varanasi. The program started with the lighting of the lamp and garlanding the bust of the goddess Saraswati . The main theme of this seven-day F.D.P. is "Faculty Preparedness Towards Education 4.0".
Prof. Durg Singh Chauhan, former founder Vice Chancellor, AKTU, who was present as the chief guest in the program, emphasized on the concept of Artificial Intelligence and said that the main purpose of this new technology is for forecasting. Underlining the characteristic quality of developed countries, he said that how developed a country is depends on its ability to predict. He said the need today is to collect and derive information from data in a more sophisticated manner. Rejecting the notion of obsolescence of human activities by AI, Prof. Singh said that human assistance is also needed to operate AI and it will not be able to operate by itself. Although he also rejected the notion that AI always gives accurate data, saying that this technique also has its limits, in this regard he also discussed the importance of parallel processing in AI. He also gave his views on the success of the virtual education system.

Earlier, welcoming the guest, Prof. P.N. Jha, Director, SMS Varanasi, discussed the importance of FDP and said that the new version of Education 4.0 is full of contemporary possibilities as flexible as Industry 4.0. He said that today generation is called "Generation Z" which has more understanding and adaptability than its predecessors. that why Education 4.0, being a new and contemporary version, is full of possibilities.
The program was conducted by Dr. Pallavi Pathak and vote of thanks by Prof. Sandeep Singh. On this occasion, Executive Secretary Dr. M.P. Singh, Director Prof. P.N. Jha, Registrar Mr. Sanjay Gupta as well as all the teachers and staff were present.
---