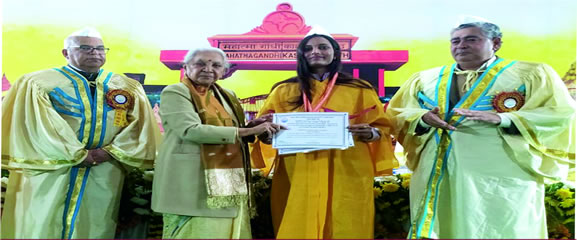 The meritorious students of SMS Varanasi hoisted the flag of success
It is said that success is a place where preparation and opportunity both live together. Something similar has been done by the students of the prestigious School of Management Sciences, Varanasi. Like in the past many years, this year also the students of different courses conducted in the college have raised the flag of SMS, Varanasi by making their place among other places along with two gold medals in the ranking of top ten students of Mahatma Gandhi Kashi Vidyapeeth. Among them, six students of BBA course in which one gold medal, and all ten students of B.Com (Hons) secured from first to tenth position in the merit list. Along with this five students of B.A. (Hons) Mass Communication and four students of B.C.A. have also made it to the top ten rankings. Among the students who got Gold Medal, Arpita Kumari (B.B.A.) and Aanchal Rai of B.Com (Hons). Aanchal Rai has also received the graduation gold medal of the university. In the merit list Neha Mishra of B.A. (Hons) Mass Communication stood second, Aanchal Mehra of BBA stood third and Arpita Malviya, Darshana Gupta (B.Com. (Hons) ) have secured second and third position respectively. Due to this huge success of the students, a wave of happiness has spread in the college.
Expressing happiness, the Director of SMS, Varanasi, Prof. P.N. Jha said that the college is proud of a large number of students making it to the top ten rankings of the university and we are committed to building a bright future for the students of SMS, Varanasi. Registrar Mr. Sanjay Gupta said that SMS, Varanasi gives priority to the holistic development of the students along with imparting quality education. Everyone is proud of this wonderful achievement of the students.
On this occasion, Dr. M.P. Singh, Executive Secretary, SMS, Varanasi, Prof. R.K.Singh, HOD, Department of Commerce, Prof. Sandeep Singh, HOD, Department of Management and Mass Communication, Prof. Kamalsheel Mishra, HOD, Computer Science, B.Com (Hons.) Course Co-ordinator Mr. Atish Khadse, B.B.A. Course Co-ordinator Dr. Chandrashekhar Singh, Course Co-ordinator of Department of Mass Communication Prof. Avinash Chandra Supkar, B.C.A. Course Co-ordinator Mr. A.P. Dubey also wished the students.
---