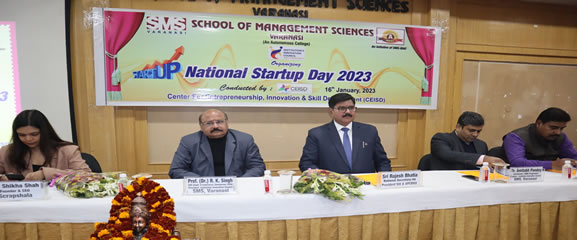 National Startup Day - 2023 Conducted by CCEISD @ SMS Varanasi
School of Management Sciences Varanasi, under CEISD and IIC banner of the Institute celebrated the National Startup Day 2023 for B.Com Honours I Semester on 16.01.2023. Miss Sikha Shah, the Guest of Honours for the program explain and described about her own Startup named SCRAPSHALA and encouraged the desired students to look after the opportunities to make a startup of their own by detailing them out with all the pros and cons of the Startups The Chief Guest for the program Shri Rajesh Bhatia, National Secretary, Indian Industries Association imparted the students with the full details about all the Government Schemes like Mudra Yojna, SSI and MSME Schemes which are found to be very fruitful in starting up any entrepreneurship business and startups company for all those who have the resources as well as the talent to use for a new venture and its products. Prof. Dr. Raj Kumar Singh, Dean, and Head Commerce Department of SMS welcome the guest by delivering his insightful speech along with Dr. Amitabh Pandey, Associate Professor, who visualized the students and guest regarding the CEISD and IIC Cell. At last Mr. Atish Khadse Sir, Associate Professor, SMS Varanasi enumerated the program by giving a nutshell view and showing his gesture of Thankfulness to the Guests, Coordinators and the students. In the end students appreciated the lecture and gave their valuable feedback also.
A Heartfelt thanks to our Honorable Director Prof. P.N. Jha Sir and Registrar Sri Sanjay Gupta Sir for giving the backbone support every time. A special thanks to Prof. Dr. Raj Kumar Singh, Dean, and Head Commerce Department of SMS and Dr. Amitabh Pandey, Associate Professor to give support and blessings at each time. A token of love for Mr. Ram Gopal Gupta, Associate Professor, Computer Science, Department and Mr. Suraj Prakash Singh, Assistant Professor SMS Varanasi for presenting up the bouquet to the guests. The session was coordinated by Mr. Vikash Chandra Sharma, Assistant Professor, and Computer Science Department.

---