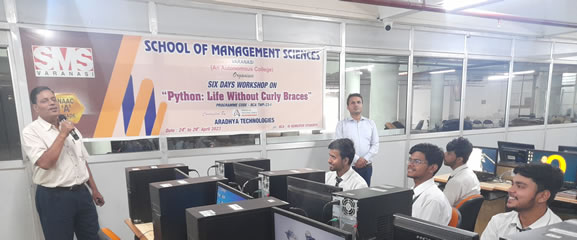 Workshop on "Python for Data Science" for the Students of BCA IV Semester
School of Management Sciences Varanasi, Department of Computer organized a 6 Days' Workshop on "Python for Data Science" for the Students of BCA IV Semester from 24.04.2023 to 29.04.2023. During these days of Workshop Professional Trainer from Aradhya Technologies were invited for the event. The Training delivered by Mr. Brijesh Chaurasia, Trainer Aradhya Technologies, Varanasi.
Python for Data Science Workshop begins with the introduction and requirement of Python in todays day to day programming era. Followed by basic programming and logical terms along with Installation setup to setting up environment for the programs to run from anywhere. First day covers all the working of programming terms for python with hands on practice done by students. Second day was covered with Introduction of Data Science and how we manage this with Python, a language important for Data Science , AI & Machine Learning. Followed by next day Students work on two modules of Python required for Data Science, numpy & matplotlib. Using both modules students made lots of graphs using numpy for co-ordinates and matplotlib for plotting different types of graphs, mainly line, bar and pie charts. With the last session a small assessment done my students with all the modules that were covered during the workshop. Overall students enjoyed leaning importance of Data Science using Python.
---