Leadership by Dr. Sanjay Saxena & Dr. Purnima Awasthi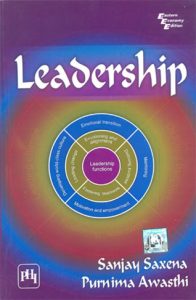 In this competitive environment fraught with ever-changing situations, a manager with high quality leadership is in great demand. A modern leader-manager needs to be creative, inspiring and motivating, as well as must have good interpersonal skills. This book imparts the knowledge of various theories and styles of leadership to students, entrepreneurs and business executives to enable them to meet both management and leadership challenges more effectively. The text presents modern concepts and different perspectives of leadership. It acquaints the readers with minuscule differences between leaders and non-leaders and approaches of managers and leaders. Written in a lively style, the book teaches how to become an integrated human being in order to utilize leadership concepts at the work place and achieve success, and emphasizes the development of interpersonal skills to build productive relationship with people. Finally, it discusses the functions of leadership and different courses of action that a leader has to take in real-life situations.
Dr. Sanjay Saxena is presently working with the capacity of Reader, Dept. of Management, School of Management Sciences, Varanasi. Dr. Saxena receives his Doctorate Degree in the area of Distribution Channels Management from the American University Campus, Cairo, Egypt. His prime interest area is Organisational Leadership. He also enjoys giving invited talks primarily in the area of leadership dynamics. He is also a Member, Editorial Board of College Journal 'Management Insight'. He can be reached at sanjay_saxena27@yahoo.com.
Publisher: PHI
Author: Sanjay Saxena, Purnima Awasthi
EAN: 9788120339293
No. of Pages: 220
---