Women's Participation And Decentralised Governance (Editor:Dr. Bhavana Singh)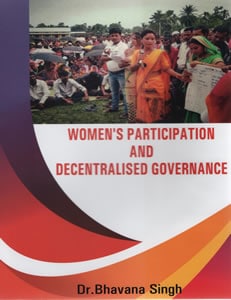 Panchayati Raj as the decentralised governance has always existed in India. Decentralization is a process that helps in all the activities to be decided and performed at different levels by different persons rather than one place or one person at all levels.
In India, since time immemorial, gender inequality was part and parcel of an accepted male-dominated culture. Women who were given a prominent place in the society played a major role in the transformation of society. They have significantly contributed in the field of education, poetics, security, administration, governance and other spheres of life. However, in the present day society, their contributions have been undermined and their role as leader has been diluted, especially in the rural areas.
This book throws light on women's participation and decentralized governance. It is an attempt to highlight the role of women in decentralised governance and also reiterates that when conducive conditions exist, women play a leading and active role in the decision making of the village, by which the entire village community benefits. Moreover, increased participation of women is often associated with better utilisation of financial resources, increased harmony in village and prioritisation of some important but neglected aspects of development such as girls' education and sanitation. It also provides a detailed profile and perceptions of Women Pradhans as well as the constraints faced by Women and their Role in decentralised governance and their empowerment.
Dr. Bhavana Singh is an Assistant Professor (Senior Grade), School of Management Sciences, Varanasi. She has Ph.D; MBA; MA; & PGDCA as academic qualifications to her credit. She has more than 10 years of teaching experience and has published numerous research papers in several national & international journals and chapters in edited books. She is also the Consulting Editor of Journal of Entrepreneurship & Innovation, as well as the editor of International Journal of Academic Research and Development.
Publisher: Rawat Prakshan
Author: Dr. Bhavana Singh
ISBN: 978-93-88562-97-3
No. of pages: 240
---