Changing perspective of Business Excellence (Editors : Prof P.N Jha, Dr. Amit Gautam)
The last few years representing the adolescence of the newly globalized business order, which have seen the emergence of novel ways of doing business primarily because of the changes on the technological front. The whole world become one big market and in the changed competitive arena only the best managed companies can survive and prosper. In this backdrop we need to seriously incubate over as to what are those dimensions of business management which can lead an organisation towards excellence. We should evolve new concepts, tools and techniques to augment the existing stock of knowledge available with a manager.
About the Editors
Prof. Pinak Nath Jha (MBA, PGDAM, Ph.D)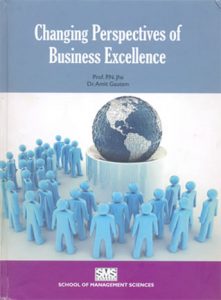 Prof. Jha has a rich experience spanning over two decades in the field of Management. His Doctorate work encompasses an innovative area of Advertising Communication. He has worked as Director of JD Institute of Management and Technology, Muktsar (Punjab) and IBM, Bela, Darbhanga prior to joining the current assignment. His area of research are Advertising communications and Consumer Behavior. More than forty of his research articles and papers have been duly acknowledged in reputed National and International publications. He is also the recipient of prestigious Dewang Mehta B-School Leadership Award. Presently he is the Director of School of Management Sciences, Varanasi.
The changes that have followed as a result of the changing business scenario have been a boon for some of the organisations as well as a bane for some others. Such a difference corresponds to the response of the participating organisations. It also depends, how an enterprise adapts itself to the changed environment. However the ongoing process has not halted and several new vistas are yet to unfold.
Dr. Gautam possesses a rich academic and corporate experience of over a decade in various capacities. He holds a PGDFM and Master of International Business Administration from FMS, BHU. He did his Doctorate in Management from MNNIT, Allahabad. His areas of interest in teaching and research are International Business and Finance. He had travelled many countries for the fulfillment of various academic causes and has contributed more than twenty research papers in reputed national and international publications. Presently he is Professor and the Coordinator of PGDM-International Business Programme in School of Management Sciences, Varanasi.
---