Management Discussion & Analysis Reporting in India by Dr. Meenakshi A. Singh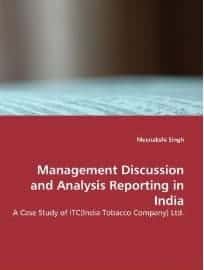 This book is on "Management Discussion & Analysis Reporting in India" which is the result of SEBI, implementation of clause 49 of Listing Agreement, mandating MD&A Reporting as a part of Director's Report to bring more transparency and accountability of the agents of the stakeholders.
Keeping this in mind, efforts have been made to complete the present research work highlighting the MD&A Reporting in India. The book is divided into seven chapters covering the present scenario of Corporate Reporting in India including the Legal Framework of Corporate Reporting. Chapters also focus on MD&A Reporting practices in India and its international perspective.
Dr. Meenakshi.A.Singh got her Masters Degree in Commerce from Punjab University, Chandigarh.She was awarded Ph.D. degree from Mahatma Gandhi Kashi Vidyapith, Varanasi in Commerce. Presently working as Senior Lecturer at School of Management Sciences, Varanasi. Dr. Singh is a Life Member of All India Commerce Association as well as All India Accounting Association. She has number of published Articles to her credit.
---