SMS ALUMNI ASSOCIATION – FOURTH ANNUAL ALUMNI MEET OF MUMBAI CHAPTER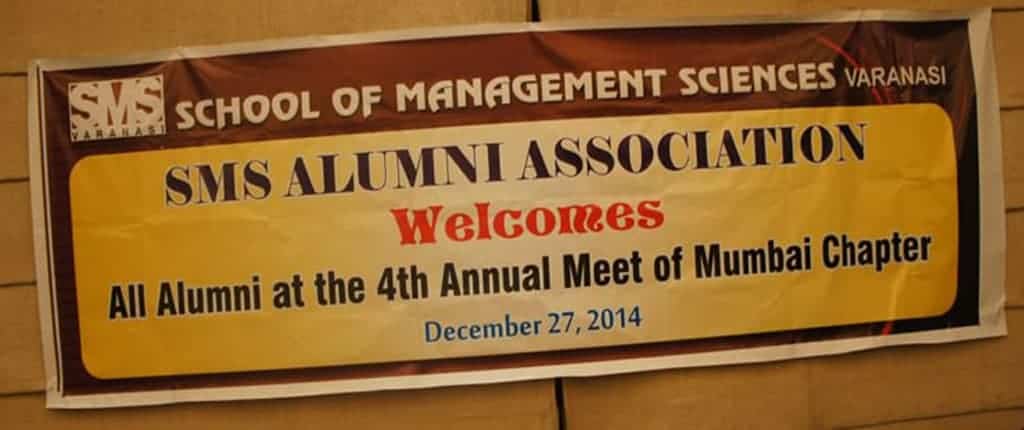 SMS Varanasi organized its Fourth Annual Alumni Meet on 27th Dec 2014 in Mumbai. Venue of the meeting Hotel Residency, Andheri, Mumbai, witnessed the presence of more than fifty Alumnus from different batches and courses.
The Alumni meet commenced by a brief presentation and exhibition of corporate film of SMS Group by the faculty members. Thereafter Alumni members were informed about the different milestones achieved by the institution in the recent past including the awards and accolades won from the industry and academia together with the academic agreements entered into with the various international institutions of repute, the world over.
Earlier welcoming the guests, Coordinator of SMS Alumni Association Mr. Amitabh Pandey, Convener-Alumni Association, interacted with the aluminous. They discussed the issues related to the challenges regarding industry- academia interface and the ways to handle the growing demands of the corporate. Members also interacted in ceremonial manner of SMS Alumni Association followed by open house discussion on issues such as future expectations of the industry and how to educate and train the future management aspirants to successfully meet the demand- supply gap existing in the corporate. All the Alumni members were felicitated in the meeting by presenting the mementos. The event ended with the promise to re union again in next year.
---