SMS VARANASI ORGANIZED SIXTH ANNUAL ALUMNI MEET OF DELHI CHAPTER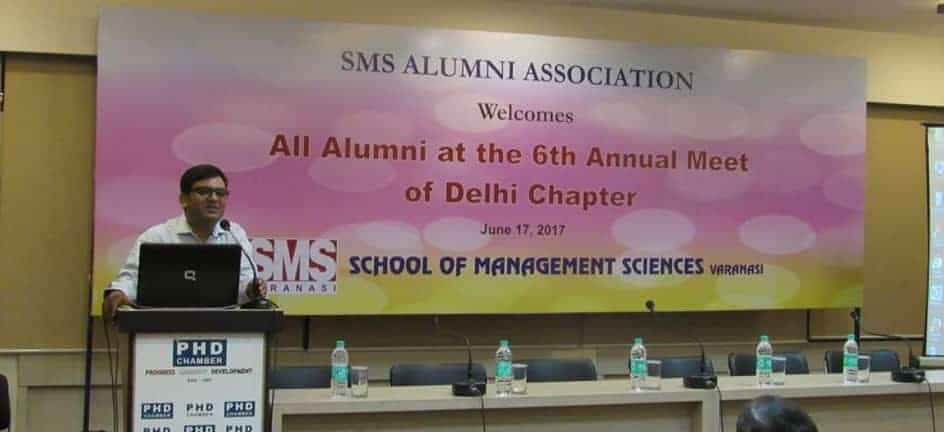 SMS Varanasi organized its Sixth Annual Alumni meet of Delhi Chapter of SMS Alumni Association on June 17, 2017 at the Shriram Hall of PHD Chamber of Commerce and Industry, New Delhi. The Meet was attended by more than 70 Alumnus and Alumna of different courses and batches of SMS Varanasi.
Meeting got started with the welcome address of Mr. Amitabh Pandey, Convener of SMS Alumni Association. Afterwards Prof. Alok Kumar, Dean R&D, SMS Varanasi and Mr. Rishi Raman Singh, Associate Professor, SMS Varanasi also addressed the alumni members. Mr. Abhishek Srivastava, Assistant Professor, SMS Varanasi was also present in the program. Thereafter Mr. Amitabh Pandey informed the alumni members about recent developments at SMS Varanasi and presented the agenda of the Alumni meet. As per agenda, alumni members gave their introduction and shared their on the job experiences as well as learnings at SMS Institute. Mr. Amitabh Pandey presented the Vote-of-Thanks. Alumni members took active participation in open discussion session. It was also discussed by the members that in what manner they can support the institution to achieve new heights of success. Participants took dinner at the end of the event. Mr. Biplab Sengupta (Alumni Coordinator-Delhi Chapter) and Mr. Birendra Nath Pandey (Alumni Coordinator-Delhi Chapter) have made required arrangements for the event.
---